Calming the Flap over Crowded Henhouses
Farmers and animal activists form an unlikely alliance to help chickens
By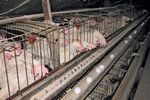 Chad Gregory, senior vice-president of United Egg Producers, didn't tell members of the nation's biggest egg lobby when he met secretly last year with their longtime nemesis: Wayne Pacelle, chief executive officer of the Humane Society of the United States. "I thought I could lose my job over this," says Gregory. "But I didn't want to spend the next 20 years fighting."
More to the point: Gregory didn't want to lose another fight to Pacelle. In 2008, California voters approved a ballot measure requiring egg producers to give hens more room in their coops, just one of numerous Humane Society-backed efforts over the past decade to crack down on farmers raising livestock in cramped quarters. Pacelle's group won over Californians with TV ads that juxtaposed images of hens freely roaming in pastures with footage of birds packed into fly-infested indoor cages, struggling to flap their wings. When the Humane Society vowed to do the same in the 24 states that allow referendums, Gregory decided he needed to do something drastic—or egg producers risked losing control over their industry as each state imposed its own restrictions.
So in a five-hour meeting on neutral turf in Arizona last March, Gregory agreed to a truce with Pacelle. The Humane Society would stop pursuing state laws that spell out how large farmers have to make cages for hens, and the egg producers would help push for a single federal standard covering all commercial chicken coops. "We can't win ballot initiatives because of consumer emotion," says Gene Gregory, Chad's father and president of the producers' lobby. "If we have a federal law, we can make changes and have certainty. It's our best option."
Over the following months the men hashed out the details: Farmers would give each bird at least 124 to 144 square inches of cage space, or double the size of typical hen housing, but would have 15 years to phase it in. Until then, producers would have to label eggs laid by hens housed in the smaller cages. "It's not about winning," says Pacelle. "It's about solving problems." Ballot measures are "expensive and arduous," he says. The Humane Society and its supporters spent $10 million organizing the California referendum.
Introduced in Congress in January by Representative Kurt Schrader (D-Ore.), the proposed federal law has other farm groups squawking. Kristina Butts, a lobbyist for the National Cattlemen's Beef Assn., says her group is fighting it out of concern that the activists will target ranchers next. Says Butts: "It's going to be a long time coming before we are willing to sit down with a group as extreme as the Humane Society of the United States."
Chad Gregory says he took heat from some egg producers after he and Pacelle struck the deal, but tempers have cooled. The truce expires if Congress doesn't approve the measure by June 30, although the groups say they can extend their period of detente. "This is laying down the sword," says Pacelle. "How often do you see that in Washington?"
BOTTOM LINE -
The bottom line: A proposed federal law would require farmers to double the size of cages for egg-laying hens, from 67 square inches per bird to 144.
Before it's here, it's on the Bloomberg Terminal.
LEARN MORE