Power Play: Toys You Can Bring to the Office
by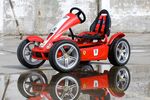 Even the dullest office manager could find something to appreciate at the American International Toy Fair. Just loosen that tie and embrace your inner child. Come on, there are people walking around dressed as stuffed animals!
"There are toys for everyone here, small kids and adult toys," says Adrienne Appell, a spokesperson for the Toy Industry Association. (No, not that kind of adult toy.) "I think a lot of times ideas and creativity are stimulated through play. I am fortunate to work in an office where there are tons of toys." The trade show, which runs through Feb. 15 at the Jacob K. Javits Convention Center in New York, showcases toys from 1,070 exhibitors. It's where manufacturers, distributors, importers, and sales agents show off their latest and upcoming products to toy retailers, who are hunting for big hits, especially for next holiday's shopping season.
Imagine cruising to your next board meeting in a red Ferrari pedal go-kart, launching a swarm of Nerf darts at the printer the next time it jams, or spying on your slacker colleague with a camera-equipped helicopter. With this cubicle-commando mindset, I sampled a number of the toys on display. I crashed a car in the Spin Master AppDrive, which plays on a smartphone you snap into a remote controller that's shaped like a steering wheel and has buttons for gas, brakes, etc. (As a New Yorker who still hasn't learned how to drive, this outcome wasn't entirely unrealistic.)  I saw the world through a camera on Interactive Toy Concepts' Wi-Spi Helicopter, which is controlled with an iPad. I would have crashed that too, if the demonstrator wasn't standing by to assist. And I unleashed marbles into the Q-BA-MAZE maze of nearly 1,800 transparent building blocks.
If work were always like this, I'd definitely stay at the office longer.
Here are 10 toys that would improve any workplace.
Before it's here, it's on the Bloomberg Terminal.
LEARN MORE