Man Bites Dog: Bank of Japan Wants More Inflation
by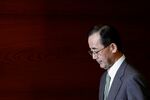 Ben Bernanke is far too polite to tell the Bank of Japan "I told you so." But he could. Way back in 1999, when he was just another academic economist in civvies, Bernanke wrote a paper called "Japanese Monetary Policy: A Case of Self-Induced Paralysis?" In it, the Princeton economist who later became the U.S. Federal Reserve chairman argued that Japan's central bank could, and should, escape from its deflationary "liquidity trap" by deliberately causing inflation. (He credited another Princeton economist, Paul Krugman, for having the same idea earlier.) Bernanke wrote:
"In particular, a target in the 3-4% range for inflation, to be maintained for a number of years, would confirm not only that the BOJ is intent on moving safely away from a deflationary regime, but also that it intends to make up some of the 'price-level gap' created by eight years of zero or negative inflation."
On Feb. 14, the Bank of Japan finally took Bernanke's advice. Or a bit of it, anyway. The BOJ didn't announce a 3 percent-4 percent inflation target, but it did set a target of 1 percent annual growth in the price level "for the time being." That's a big change from the bouts of grinding deflation that have plagued Japan for years. Consumer prices in Japan are actually 3 percent below where they were in mid-2008. Deflation raises the real cost of debt and makes people reluctant to spend, figuring prices will be lower if they wait.
Unaccustomed to coming right out and saying it favored higher inflation, the Bank of Japan stepped on its message a bit. As the New York Times reported, the central bank "maintained expectations for a moderate recovery, causing confusion among some analysts over why bank officials had chosen to act now." Furthermore, BOJ Governor Masaaki Shirakawa played down the target's significance in a press conference, according to Bloomberg News.
Central banks are increasingly sensitive to the importance of communication, knowing that persuading the financial markets they're serious about their goals is half the battle. The significance of the Feb. 14 announcement wasn't that the BOJ had set a target—it was that it was stating the target unambiguously in writing. According to the English-language version of Japan's Daily Yomiuri, last week Yasutoshi Nishimura of the main opposition Liberal Democratic Party said at a House of Representatives Budget Committee meeting, "It's hard to understand what the Bank of Japan aims to achieve [compared to the Fed] because of the difficult-to-comprehend language it uses."
Before it's here, it's on the Bloomberg Terminal.
LEARN MORE