What If the Economy Keeps Outpacing Budget Projections?
By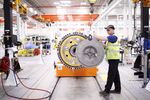 The unemployment forecasts included in President Barack Obama's $3.8 trillion budget proposal released today are "stale and out of date," says Alan Krueger, chairman of the White House Council of Economic Advisors. Calculated by the president's economic team back in November, the forecasts project an unemployment rate of  8.9 percent for 2012 and 8.6 percent for 2013. The jobless rate is currently at 8.3 percent after declining for five consecutive months.
The disconnect between the forecasts and the facts on the ground underscore the recent gains the economy has made, as well as just how pessimistic Obama's economic team was back in November. The economy has since shown the kinds of recovery signals that it's lacked for most of Obama's three years in office. Since August, the unemployment rate has fallen, from 9.1 percent to its current 8.3 percent. If that pace holds, Obama could be looking at a jobless rate approaching 7 percent on Election Day. Given the last three years of dismal growth, that's a big "if." Krueger seems to be playing it safe, having stated that he expects unemployment to be somewhere closer to 8 percent in November.
Forecasting the unemployment rate is far from an exact science, and Obama's economic team has missed before on previous budget rollouts. Back in February 2009, when Obama introduced his first budget, then-White House Council of Economic Advisers chair Christina Romer projected that unemployment would peak at 8.1 percent in 2009, hover around 7.9 percent in 2010, then begin a steady decline through 2011 and 2012. For lots of reasons, that didn't happen. Only now has job-creating growth started to take hold. Still, the administration's forecasts remain cautious. The budget projects that the economy will grow by 2.7 percent in 2012.
If things continue to improve faster than expected, Obama could have some leverage in future decisions on budget cutting or further stimulus. On the other hand, Republicans will continue to criticize him for failing to reduce the federal budget deficit, as he promised. In introducing his first budget in 2009, Obama pledged to cut the deficit in half during his first term. Back then it was $1.3 trillion—essentially where it is today. For 2012, the budget deficit is projected at $1.33 trillion, or 8.5 percent of gross domestic product. In his new budget, Obama promises to reduce that to $900 billion, or 5.5 percent of GDP, in 2013.
The budget as it stands today will not be the one that eventually gets passed, if one ever does get passed. Congress hasn't approved a budget resolution since 2009. In an election year, neither Democrats or Republicans have much incentive to budge.
Before it's here, it's on the Bloomberg Terminal.
LEARN MORE