The Secret to Florida's Recovery: Disney World
By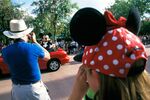 Good news for cities still suffering from the recession: All but three of the nation's 363 metro areas will add jobs this year, up from 241 last year. This according to an economic index published by the U.S. Conference of Mayors. The laggards are Odessa and Midland, Tex., and Carson City, Nev., which are the only metro areas projected to lose jobs in 2012.
The big winner is a bit of a surprise: Florida, which has been especially hard-hit by the economic downturn. For years, hiring has been anemic, unemployment remains near record highs, and real estate prices are still dragging. (Check out this Miami Herald Economic Time Machine, which tracks 60 indicators of the local economy.)
Seven of the 20 cities anticipating the most job growth are in Florida. Growth for the Naples-Marco Island area, the large metropolitan cluster on the Gulf Coast, is projected to be 2.6 percent; the projection for the Orlando I-4 corridor is 2.2 percent.
What's going on here? In a word, Disney World. Florida is a top holiday destination for South American tourists, and they flock to Disney, Universal Studios, and other theme parks and attractions. As domestic tourism has faltered and the dollar has weakened, the number of overseas visitors to Florida has climbed steadily. The number of tourists from Brazil alone is up by at least a third. The report's author, economist Charles Dougherty of IHS Global Insight, a forecasting firm, writes that Florida leisure and hospitality payrolls are expected to increase by 3 percent in 2012, compared with 2.2 percent nationwide.
Another big thing: the U.S.-Colombia Free Trade Agreement. Ratified by Congress in October, it is expected to give a strong boost to the state's economy. Colombia is Florida's second-largest trading partner. Nearly three-quarters of Colombia's imports come through the Port of Miami, which is now undergoing a massive dredging project to handle the growing number of ships coming up from the Panama Canal.
And finally, the housing market is starting to stabilize. Dougherty says total housing starts in Florida will grow 20 percent in 2012, compared with 15 percent nationwide. Median home prices are expected to grow on pace with the rest of the country at 1.1 percent.
State politicians—and President Obama—will no doubt point to these numbers as evidence that their policies are slowly pulling up the economy. But the key word here is "slowly." The report cautions that the uptick in growth won't be enough to push the unemployment rate below 8 percent until after the fall elections.
Before it's here, it's on the Bloomberg Terminal.
LEARN MORE