Romney Loves Detroit, Just Not the UAW
By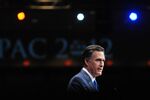 Mitt Romney delivered a Valentine's card to Detroit this morning, but the Republican Presidential candidate pointedly excluded the autoworker unions from the warm embrace. His op-ed, published in today's Detroit News, makes clearer than ever that Romney hopes to use Big Labor as a stepping stone to the Presidency—namely by campaigning against it. That's probably a winning strategy, mathematically. As Romney's campaign website takes pains to note, the share of private sector workers who are union members has fallen to 7 percent, from 37 percent in the 1950s. And 51 percent of respondents to a survey said unions "mostly hurt" the economy.
Romney's op-ed is rich in Detroit local-boy lore: "I grew up drinking Vernors and watching ballgames at Michigan & Trumbull. Cars got in my bones early. And not just any cars, American cars." Of course, not every Detroiter had a father (George Romney) who was president of one of the automakers (American Motors).
Romney writes that the Obama administration's rescue of General Motors and Chrysler was "crony capitalism" that unfairly rewarded the unions. He writes: "The Obama administration needs to act now to divest itself of its ownership position in GM. The shares need to be sold in a responsible fashion and the proceeds turned over to the nation's taxpayers."
Before it's here, it's on the Bloomberg Terminal.
LEARN MORE