Apple Hits $500, Flirts with $500 Billion Valuation
by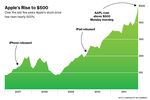 Last week the buzz was whether shares of Apple would hit $500 after the anticipated announcement of the iPad 3 in March. Too late—the company's shares pushed past $500 within 15 minutes of Monday's opening bell, rising 1.8 percent. But it's not the iPad 3 that got Apple past the milestone: Greece did. U.S. stocks climbed early Monday on news that Greek Parliament approved tough new austerity measures that clear the way for another bailout. (Updated: Apple closed Monday at $502.)
So far this year, Apple shares are up more than 20 percent. As late as Dec. 16, 2011, shares were trading at $381. With the company's market cap now $460 billion, a market cap of $500 billion seems inevitable. When that happens, Apple would be the first U.S. company to be valued at half-a-trillion dollars since Exxon did it back in July 2007. ExxonMobil is currently valued at $397 billion. As for other tech giants, Microsoft's market cap is $256 billion; Google's is $199 billion, making Apple bigger than both of them combined. Apple is also bigger than the combined market caps of IBM ($223 billion) and Wal-Mart Stores ($212 billion). Some are starting to wonder whether Apple will be the first $1 trillion U.S. company. (PetroChina passed that mark back on Nov. 5, 2007.)
Although its stock price has surged 488 percent since January 2007, many analysts think Apple remains undervalued. Last week, Canaccord Genuity analyst Mike Walkley raised his price target to $665 from $650. Apple is sitting on an immense amount of cash—more than $98 billion, up from $76 billion last summer. The company is famous for not paying a dividend, but shareholders are hoping that will change in 2012.
Apple's strength may be masking a broader weakness in Standard & Poor's 500-stock index, distorting its recent gains. The amount that S&P 500 earnings beat the average analyst estimates drops by about two-thirds when Apple is excluded, Jonathan Golub, chief U.S. market strategist at UBS, told Tom Keene in an interview last week on Bloomberg Surveillance.
Golub said faster growth overseas, higher oil prices, and a weak dollar have boosted the perceived success of U.S. corporations in the past year. "Now that those things are rolling off and becoming effectively headwinds not tailwinds, and then you take out the Apple numbers, you just see how weak the underlying trend is," he said.
Before it's here, it's on the Bloomberg Terminal.
LEARN MORE