The Empire State Building's $1 Billion IPO
by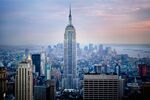 The next time someone offers to sell you a piece of a famous New York landmark, it may not be a scam. The owners of the Empire State Building have filed to raise $1 billion in a public offering that would let retail investors own a piece of the iconic tower. The Malkin family, which owns the building— along with the estate of Leona Helmsley—will group the 102-story limestone skyscraper and 11 other New York-area properties into a real estate investment trust that will trade on the New York Stock Exchange under the ESB symbol.
The big news hadn't reached the receptionists at the building's front desk today. They quietly tended to the trickle of guests visiting businesses based in the tower. A few tourists headed for the observation deck. Few stopped to gawk in the lobby when Paul Sturgess, the 7-foot, 8-inch Harlem Globetrotter, posed for press photos to promote upcoming games in the area, spinning a basketball on his finger amid the newly restored marble.
While the tower's Art Deco styling has been a fixture in the New York skyline, the building has been a less-than-stellar performer for investors. Friction and litigation among previous owners, including Donald Trump and Helmsley, stymied repairs and changes needed to catch up with the amenities and infrastructure offered by new commercial towers going up across Midtown Manhattan.
In 2008, the owners began a $550 million retrofit to bring the tower in line with its steel-and-glass neighbors. They turned warrens of small offices into larger spaces favored by higher-paying tenants. The rehab also included energy-efficiency improvements that eventually earned the project a LEED Gold rating from the U.S. Green Building Council. Once the project is completed by the end of 2013, the owners estimate the green retrofit will reduce the building's energy consumption by 38 percent.
The improvements have attracted some big name tenants, including Hong Kong-based manufacturer Li & Fung, fragrance giant Coty, the Swedish construction firm Skanska, and the social network LinkedIn. They're alongside older tenants that range from hip-hop apparel company Fubu, which has leased the 66th floor since at least 2004, and 75-year old Empire Diamond, which has been in the building since two months after it opened in 1931.
Before it's here, it's on the Bloomberg Terminal.
LEARN MORE