Mapping America's Illnesses, in Near Real-Time
Twitter reports of coughing, upset stomachs and, er, "man flu" all pop up on SickWeather.com's disease map.
John Metcalfe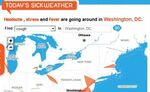 People in Seattle are suffering from coughing and the flu.
Headaches and fevers are going around in Washington, D.C.
A resident of Phoenix is down with the "man flu" – the possibly mythical condition in which men experience illnesses more painfully than women.
All this drippy, wheezy intelligence, possibly accurate or possibly not, comes courtesy of SickWeather, a website that attempts to crowdsource the health of cities around the world. (Motto: "Say It, Don't Spray It"). Co-founded by former U.S. Census crime-trend mapper Graham Dodge, the site presents a near-real-time map showing outbreaks of various illnesses as vast colored polygons; zoom in, and you can see the specific neighborhoods where people are kvetching about being laid out.
Hypochondriacs can spend a half hour or so filtering the results by malady. There are the usual suspects: common cold, stomach flu, pink eye, allergies, chicken pox. A few lesser-known afflictions also pop up, such as croup and "love sickness." When the terrorists finally find a way to weaponize the latter, we'll all be doomed.
How does SickWeather reach its diagnoses? Two ways. First, users can log on and pin their respective bugs onto the map. The company also uses a "patent-pending algorithm" that scans Facebook and Twitter for complaints of illness. This spider is intelligent enough to tell the difference between "I'm sick" and "Those were sick beats at the club last night." Likewise, it will pick up "The doc says I have bronchitis" but leave "Bieber fever 4ever!"
If SickWeather picks up on multiple reports around the same time in a city, it will paint the area in an ocean of angry orange to represent "potential storm activity." But exactly how useful is this data? It's not like most people will then rush out to get a flu shot or chug a bottle of zinc pills. Perhaps they'll be more careful to wash their hands after touching doorknobs?
The site also suffers from certain cities that seem to always pop up as sick, suggesting people are more prone to self-report in places like Los Angeles and Washington, D.C. (If you're curious, SickWeather says the common cold is prevalent in L.A. and D.C. is depressed.) And the lack of a fact-checking mechanism allows anybody to report a disease, whether they have it or not or are simply mistaken about their symptoms.
Still, it's a fun tool to play around with. For a similar experiment with urban illnesses, try Google's Flu Trends, which indicates that Japan is now under an "intense" flu outbreak.