Map of the Day: How People Travel Around a City
An artist and cartographer lays out 10,000 tweets to map cities' most popular routes.
By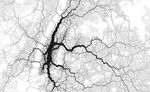 Well this is cool - digital cartographer Eric Fischer has put together a series of maps that track the paths Tweeters take through cities. For his project, Fischer used geo-tagged tweets (10,000 to be exact, along with 30,000 point-to-point trips) to plot people's paths from place to place. His finished product offers some insight into how people move through a city.
"If you just draw lines from the beginning to the ending of each trip, you get a big mess, so the challenge is to come up with more plausible routes in between," Fischer told Mashable. "That is where the 10,000 individual geotags come in, the most plausible routes are ones that pass closely through places that other people have been known to go."
See a good explanation of Fischer's methodology (along with links to other maps!) here.