Bid & Ask: The Deals of the Week
By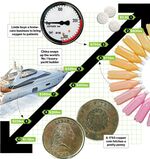 1. Bristol-Myers Squibb will pay about $2.5 billion for biopharmaceutical company Inhibitex to improve its position in the market for hepatitis C drugs, which may reach $20 billion by 2020.
2. Raymond James Financial has agreed to buy Regions Financial's Morgan Keegan brokerage unit, a top underwriter of U.S. municipal bonds, for $930 million.
3. Industrial and medical gas company Linde will pay Air Products & Chemicals $751 million for a home-care business that supplies oxygen to patients.
4. Copenhagen-based Novo is purchasing PAI Partners' stake in Danish food-ingredient maker Chr. Hansen for $714 million.
5. Canada's largest diversified mining company, Teck Resources, will pay about $425 million for SilverBirch Energy. With the deal Teck acquires the portion of the Frontier oil-sands project it doesn't already own.
6. Aircraft supplier B/E Aerospace will acquire UFC Aerospace, a distributor of machine parts and chemical products, for about $400 million.
7. Sigma-Aldrich is buying BioReliance Holdings, a provider of biopharmaceutical testing services, from Avista Capital Partners for $350 million.
8. Bellevue (Wash.)-based online search company InfoSpace will pay $288 million for online tax-preparation company TaxACT.
9. The state-owned parent of China's biggest bulldozer-maker, Shangdong Heavy Industry Group-Weichai Group is paying $228 million for 75 percent of the world's largest luxury-yacht builder, Ferretti Group. China's millionaire households grew 31 percent in 2010.
10. A one-cent copper coin minted in 1793 sold for a record $1.38 million at a Heritage Auctions event held during the annual Florida United Numismatists convention.
Before it's here, it's on the Bloomberg Terminal.
LEARN MORE