Business Travelers in Vegas: A Survivor's Guide
A business trip to Sin City needn't yield an expense report that maxes out your credit cards (or gets you fired). Here's how to do Vegas without a fiscal hangover
Teddy Wayne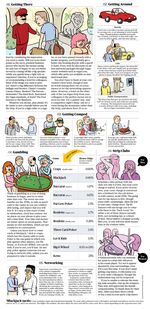 Elvis impersonators. The Hangover, part I. Exotic dancers all somehow named Cinymin. Las Vegas is nothing if not a classy town, and you're headed there for a three-day convention. Yet what if you're a happily married guy who prefers eight hours of sleep to five-card stud, Tulsa over Tao Nightclub, stripping paint to strippers? You still need to network and give the impression that you're a high-roller to your more hedonistic colleagues and boss. Fret not: herewith, a field guide for the reluctant businessperson forced to endure the blinding sights, deafening sounds, and rotting smells of Sin City. All without maxing out your credit card or racking up enough expenses to get you fired.
And remember: Comportment is permitted to be looser here than at other conventions, but keep in mind that what happens in Vegas doesn't necessarily stay in Vegas in the era of digital cameras and Facebook.
Before it's here, it's on the Bloomberg Terminal.
LEARN MORE