Bid & Ask: The Deals of the Week
Noteworthy expenditures of the week
By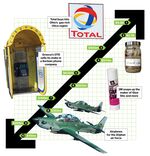 1. Italy's biggest bank, UniCredit, will raise $9.8 billion by selling shares at $2.51 each, which it said is a 43 percent discount from the Jan. 3 closing price, excluding the value of rights to additional purchases that come with the shares.
2. French oil company Total acquired a $2.3 billion holding in Ohio's natural-gas-rich Utica shale region from Chesapeake Energy and EnerVest.
3. China Petrochemical will pay $900 million for a one-third stake in five Devon Energy exploratory oil projects in Lousiana, Oklahoma, Michigan, Colorado, and Wyoming.
4. Canadian crude producer Athabasca Oil Sands will sell its remaining interest in the MacKay River oil-sands project to PetroChina for $674 million.
5. Soho China, the No. 1 developer in Beijing's central business district, is buying a $632 million stake in a site on Shanghai's historic Bund that's partly owned by Greentown China Holdings.
6. 3M, the maker of Post-it Notes and Scotch tape, will acquire Avery Dennison's office-supplies business for $550 million, bolstering its lineup with products including Marks-A-Lot pens.
7. Greece's Hellenic Telecommunications Organization (OTE) is selling a 20 percent stake in the Serb national fixed-line and mobile-service provider back to Telekom Srbija for $492 million.
8. Sierra Nevada Corp. and Brazil-based Embraer won a $355 million contract from the U.S. Air Force to supply Afghanistan with 20 planes.
9. Manhattan's biggest office landlord, SL Green Realty, is buying the HarperCollins Building on East 53rd Street for about $265 million, say two people with knowledge of the deal.
10. The developer of skyscraper One57 is asking $110 million for a six-bedroom penthouse overlooking Central Park. That price would be a record for a single Manhattan residence.
Before it's here, it's on the Bloomberg Terminal.
LEARN MORE