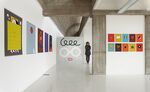 Only 27, Olimpia Zagnoli has managed to become one of the world's premier graphic designers. Her client list includes The New Yorker, The New York Times, The Boston Globe, The Washington Post, The Harvard Business Review, and the Corriere della Sera among many more.
Zagnoli's work demonstrates a sensibility and style that reminds its viewers of many great mid-century European and American designers while still showcasing a strong sense of individuality.
One of her more recent projects involved developing iconography for 150 different cities as part of the newly released The New York Times, 36 Hours: 150 Weekends in the U.S. and Canada. Currently living in Milan, we talked with her about what role urban environments play in her design process for specific projects and for her work as a whole.

In The New York Times, 36 Hours: 150 Weekends in the U.S. and Canada you developed an icon for each city highlighted in the book. What was your process for developing these icons and were there challenges in that process?
In the beginning all I had was a list of places. I had to research each of them and see which elements were interesting enough to be illustrated. I think that being a foreigner made me see things from a different point of view which was definitely fresh but sometimes a little tough. Apart from the main cities, in fact, I had no idea what the smaller cities looked like. My friend and artist Jennifer Uman helped me a lot with the missing parts.  
You did a similar project for Max Mara's magazine. Is city iconography something you particularly enjoy creating?
Illustrating cities is very stimulating because each city is sort of small universe with different looks, rules, light, people but sometimes they all seem to be the same place. So it's nice to work on the feeling that a city gives you, not only on the things that belong to the place.  

In your blog, you sometimes use drawings of urban spaces to help tell your story. How often are you struck by a building or landscape enough to draw it?
I observe a lot. I always walk with my nose up in order to check all the small windows, the nice balconies with palms and rosemary plants or some hidden architectural detail. I remember a lot of the things I see and keep them in my mind as if it was a small archive. All of these things magically come out when it comes to drawing an urban space.

What types of design or specific eras are you most influenced by?
Well, I obviously have a thing for good mid-century designers and case study houses but I also love the architecture and designs from the 1930s. I really like the contrast between the strong and soft lines, lights and colors of that decade. Lately I've been exploring the 1970s and going through a lot of psychedelic textiles, drawings, watercolored comics, album covers.

You've also done some façade animations for a Molteni showroom in Milan. Is there a different process for storefront design as opposed to designing for print publications?
The process is quite different. The materials are different, the audience is different, the necessities are different. Creating an image for a storefront to me is more about having fun, being around people while working and exploring new shapes, sizes and colors. The process of creating an illustration for a print publication is usually related to a text, so the premises are different from the beginning.
You've spent a lot of your life in two global design hubs (Milan and New York). How much of an impact do these two cities have on your work? Which one do you enjoy more?
Milan gave me the time to develop a style and an aesthetic, New York gave me the guts to show it around. I really enjoy both in different ways. I'm glad I have the opportunity to take little bits of New York here and there but I'm happy to have my little house in Milan.