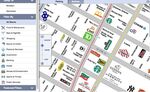 A new and ambitious website has mapped all the storefront businesses in Manhattan and Brooklyn.
CityMaps recently launched a beta version, which enables users to zoom down to the block level to see where the nearest coffee shop is or what's around the corner of any corner.
It's an interesting approach to mapping a city, emphasizing the services it provides. The site allows users to search for business names, or filter by categories like restaurants and bars. It also locates subway and transit stops, as well as parking lots, complete with parking rate information. The map also includes real-time links to online deals and coupons, blinking these offers on the map in front of their locations. 
But it's not just for curious consumers. The site's founder, Elliot Cohen, said in a recent article in the New York Times that CityMaps "is a real opportunity to help renters and buyers of real estate, whether it's residential or retail real estate, to answer that question of 'What's around me?'"
At the block level, corporate logos of businesses are listed, as are the names of smaller retailers and businesses. Even vacancies are noted. As a go-to, CityMaps may not be pushing Google Maps out of business, but it does offer a more robust way to place the businesses of a city.
(As a side note, the rainbow of brand names and logos calls to mind the 2010 Academy Award-winning animated short Logorama, in which numerous corporate logos and mascots make up the buildings and natural inhabitants of a city that's turned to chaos when a manic and foul-mouthed Ronald McDonald goes on a rampage and takes a Bob's Big Boy hostage. In other words, it's a delightful film.)
Map via CityMaps.