Bid & Ask: The Deals of the Week
Noteworthy expenditures of the week
By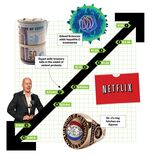 1. Biopharma company Gilead Sciences is paying about $11 billion for Pharmasset to add experimental treatments for hepatitis C, a market that may reach $20 billion by 2020.
2. Insurer Alleghany will buy reinsurer Transatlantic Holdings, a former unit of American International Group, for $3.4 billion and plans to run it as a standalone subsidiary.
3. Centrica, the U.K.'s No. 1 residential natural gas supplier, is paying Statoil $1.6 billion for control of eight fields in the Norwegian North Sea.
4. Billionaire Richard Branson's Virgin Money Holdings U.K. will buy Northern Rock for $1.2 billion, marking the first sale of a British government bank holding since the 2008 financial crisis.
5. Tokyo Stock Exchange Group offered about $1.1 billion for up to 67 percent of Osaka Securities Exchange's outstanding shares. The merger would create the world's third-largest bourse.
6. Netflix will sell $400 million in stock and convertible notes to bolster cash as it ramps up spending for online rights to films and TV shows.
7. Egypt raised $334 million from an auction of treasury bills. Yields on the nine-month paper rose to their highest level in at least five years, amidst violent clashes in Cairo between protesters and police.
8. Louisiana-based oil and gas company Stone Energy will acquire BP's interest in three Mississippi oil properties for $204 million.
9. Actor Bruce Willis's 20-acre, lake front estate in Sun Valley, Idaho, is on the market for $15 million. The property includes a heated pool with water slides.
10. Memorabilia belonging to basketball legend Julius Erving fetched $3.5 million at an online sale held by SCP Auctions. His 1974 ABA New York Nets championship ring sold for $460,741, the highest price ever for a sports ring.
Before it's here, it's on the Bloomberg Terminal.
LEARN MORE