The Map Geeks Behind 'Bostonography'
Enterprising cartographers explore the mappability of Boston
Nate Berg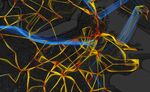 In this age of Google Maps and GPS in cell phones, hasn't everything already been mapped?
"It's probably the most common question a cartographer gets," says Tim Wallace, who's finishing his Ph.D. at the University of Wisconsin, Madison's cartography program. "Yeah, spatially, most of the world, above water anyway, has been surveyed. But certainly not every phenomenon has been mapped."
For cartographers, Wallace says, this concept is an edifying thought, and one that can provide countless opportunities to interpret places.
"Space is not always empty," says Wallace. "There are always things happening in it and there are always things that happen over time."
With this in mind, Wallace and fellow cartographer and UW-Madison grad Andy Woodruff started a side project last year to explore the ways mapping can deepen knowledge and understanding about a place. In their case, the place is Boston, and they've dubbed their website Bostonography. They create maps that focus specifically on the city and its surroundings. But it's not just the roads and the river they're looking at. Instead, they've turned their cartographic skills toward documenting and interpreting a wide variety of data sets that explain elements of the city geographically.
Their most recent map shows 24 hours of real-time bus location and speed data from the Massachusetts Bay Transportation Authority. They've also mapped the most common hues from geotagged Flickr photographs, the distance to cemeteries, and even a GPS-tracked path around Boston and neighboring cities to make a heart shape for Valentine's Day.

"I walk around and I look around and everything I see is some kind of mappable data. There's so much you can do," says Woodruff, who's lived in Cambridge for the past three years where he also works full-time for a company that does custom interactive cartography.
In the middle of baseball season, Wallace and Woodruff made a set of maps showing the broadcast areas of radio stations that play Boston Red Sox and New York Yankees games. They show which areas are best able to listen to the games, the spatial distribution of likely fans of each team, and areas where overlapping broadcast areas suggest some inefficiency in the system.
Another recent map shows the location of trees in the Boston area and their potential autumn colors.

Much of the process of making these maps is coming up with the idea, and then making sure there's a data set somewhere that they can use. That might mean hassling the FCC for radio signal data or digging through local websites to find lists of trees. They say they'd love to get point-to-point data on the city's new bikeshare program, though they haven't had any luck yet. But there's no shortage of data to use or phenomena to map. Cities, Wallace notes, provide endless opportunities.
"There's always going to be something going on because it's always changing," he says.
Wallace, who grew up in the Boston area, has been living in New York and traveling back and forth to Madison as he wraps up his Ph.D. He says creating these maps of the city makes him miss his hometown. For Woodruff, a relatively new resident, the constant search for new and interesting things to map has given him a greater appreciation of Boston.
"It's certainly helped me learn more about the city," Woodruff says. "It makes me much more connected to it."
He also hopes that the maps he and Wallace are making of the city will help others learn more and feel more in touch with the city around them.
"I'd like to increase attention on the city, to get people thinking about things they don't normally think about," Woodruff says. "Maps are a good way of doing that."
Images courtesy Bostonography.