An Oil Company Buys Out an Entire ZIP Code
One Detroit refinery's unusual approach to reducing negative health effects
By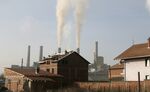 An oil refinery in Detroit has a rather bold new plan to try to be a better neighbor: it's buying out the entire 48217 ZIP code. The Detroit Free Press reports that as part of plans to expand its refinery in southwest Detroit, the Marathon Petroleum company is offering to buy the properties of about 400 nearby homeowners. The buyout plan is worth about $50,000 per home, and would require anyone accepting the deal to move out of the neighborhood.
It's an interesting move for Marathon because their planned expansion won't actually be located on the land they're buying out. Rather it's a sort of goodwill move to get people out of a neighborhood that will soon become even more unhealthy.
"There's not really a financial math involved," said Tracy Case, manager of Marathon's Detroit refinery. "We think it's a right thing to do. It's part of who we are as a company."
ZIP code 48217 is one of the most heavily industrialized neighborhoods in Detroit, and as a result, its residents suffer from high rates of asthma and other diseases. Marathon's refinery is located directly next to the Oakwood Heights neighborhood that makes up 48217. The company says they want to reduce the harm that such industrial uses cause to neighbors by clearing people out, tearing down homes and creating a green buffer around their site.
It's a responsible move, but it's also a little odd. The company is essentially saying what few industries or companies will admit: "I'm going to be a bad neighbor. I will make you sick. You should get out of here before I kill you."
And the neighbors are heeding that call. The buyout will be rolled out in two phases, and those located in the first batch of homes closest to the refinery have until the end of February to sign up for program. For many, the buyout is welcome and long-overdue.
"I'm excited. We've wanted to get out of here for the longest time," said Rita Gutierrez, 43, who lives on the 400 block of Colonial. "It's kind of dangerous here. It's one of the better blocks, but you still see a lot of stuff, a lot of pit bulls, and the smell at nighttime or in the morning in the summertime, it's just unbearable. We couldn't open our windows."
But as the report notes, the buyout is bittersweet. Many of those receiving the buyouts says they'll be moving not just out of their neighborhood, but out of the city entirely.