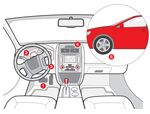 1. BRAKES
In many modern cars, brakes are connected to other car systems (like diagnostic chips). Hackers can control or disable them.
 
2. SPEEDOMETER
Same goes for the engine: Hackers can rev it up, or cause the speedometer to display incorrect readings.
 
3. STEERING WHEEL
So far, this is mostly impervious to hackers. That's changing as features such as automated parking become common.
 
4. CONSOLE
Stereos are an entry point for malicious software, which can be used to control air conditioning and speakers.
 
5. TIRES
Most cars today have wireless tire pressure monitoring systems, which researchers used to gain access to a vehicle's circuitry.
 
6. LOCKS
Keyless systems are another avenue that hackers can compromise. Cars can then be unlocked remotely.
Before it's here, it's on the Bloomberg Terminal.
LEARN MORE