Bid & Ask: The Deals of the Week
By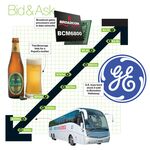 1. Irvine (Calif.)-based Broadcom agreed to buy NetLogic Microsystems for $3.7 billion to gain chips that manage Internet traffic, as demand for online phone calls and video streaming surges.
2. General Electric will pay $3 billion, plus a $300 million premium, on Oct. 17 to buy back preferred stock it sold in 2008 to Warren Buffett's Berkshire Hathaway.
3. Colfax, a U.S. maker of pumps and valves, bid $2.4 billion for Europe's biggest welding equipment manufacturer, Charter International, trumping an offer from London-based Melrose.
4. European oil-services company Technip is buying U.S.-based Global Industries for $937 million to expand in the market for subsea oil and gas infrastructure projects.
5. Toronto-based Bank of Nova Scotia plans to acquire a 20 percent stake in closely held Bank of Guangzhou for about $727 million to add branches and deposits in China.
6. Los Angeles-based investment firm Oaktree Capital Management says funds it manages plan to pay $670 million for Jakks Pacific, a maker of action figures and electric toys.
7. Thai Beverage, Thailand's largest beer and whiskey maker, offered $512 million for Serm Suk, a bottler of PepsiCo beverages.
8. Thailand's No. 1 coal producer, Banpu, agreed to buy the shares it doesn't already own in Hunnu Coal, valuing the Australian explorer at $493 million.
9. Britain's biggest long-distance bus operator, National Express Group, bought Cincinnati-based school bus company Petermann Partners for $200 million to expand its North American fleet by 3,300 vehicles, or 20 percent.
10. Yale University received $25 million from Thomas Steyer, founder of Farallon Capital Management, and his wife, Kathryn Taylor, to help open the school's Energy Sciences Institute.
Before it's here, it's on the Bloomberg Terminal.
LEARN MORE