Welcome to the NFL, Mr. Prime Minister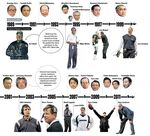 Yoshihiko Noda, who succeeded Naoto Kan as Japan's Prime Minister on Aug. 30, is the 16th to occupy the post since 1989, the final year of Japan's great boom and the start of the current emperor's reign. Such turmoil makes the famously volatile Oakland Raiders seem stable by comparison.
Before it's here, it's on the Bloomberg Terminal.
LEARN MORE