Finding a Place for Polaroid in the Digital Age
An Austrian startup called the Impossible Project is on a mission to revive instant film
By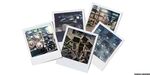 Under the tutelage of its creative director, Lady Gaga, instant-photo pioneer Polaroid has introduced a slew of futuristic products such as sunglasses that shoot video. One thing Polaroid doesn't offer is film for its vintage cameras. The company in 2008 sold that business to an Austrian startup called the Impossible Project.
Since then, Impossible has shown that instant film has a future, even in the Digital Age. The company has introduced new film and has opened stores in Vienna, New York, and Tokyo, sharply boosting sales and profits. This year Impossible expects to expand its film lineup. And with no one currently making cameras that use the old Polaroid format, the company plans to launch its own instant model in 2012. Florian Kaps, one of three founders, says the company's success lies in preserving the soft, distorted colors of vintage Polaroid film. "Because of the digital revolution, people are starting to go in the opposite direction, toward retro analog products, and the fun is just beginning," Kaps says.
Polaroid's instant-film business started to fade to black in the mid-2000s. Sales declined nearly 25 percent annually for several years and suppliers of essential chemicals planned to exit the field because of environmental concerns and bleak revenue prospects. Just two days before the company was to shutter its last instant-film factory, in the Dutch city of Enschede, and destroy millions of dollars' worth of unique equipment, Kaps stepped in.
He teamed up with André Bosman, a manager at the factory, to offer $3.1 million for Polaroid's machines, inventory of some 400,000 packs of film, and a 10-year lease on the facility. They brought Austrian entrepreneur Marwan Saba on board to help raise funds, and the team quickly found a dozen backers willing to invest in the venture. Given Polaroid's loyal customer base, "it would have been pretty difficult to miss the opportunity," Saba says. "Companies pay millions to build that kind of consumer interest."
Problem was, four factories integral to the production of Polaroid's film had already closed. This was resolved by entering into a partnership with Ilford and other photographic-equipment companies to get components such as paper and coatings. A more serious challenge was replacing chemicals long used in Polaroid's formula (hence the name Impossible Project). Kaps and his team hired former Polaroid engineers to develop recipes that use readily available ingredients without sacrificing Polaroid's analog charm.
The old Polaroid factory in Enschede, a vast facility that once employed 1,200, gives the 36 Impossible staffers who work there plenty of room to run with their ideas. Impossible has already developed two sepia-toned films and an experimental color version. This year it plans to release an 8x10 format as well as a new color formula.
At Impossible's Manhattan store, an airy loft five stories above Chinatown's busy streets, instant-film devotees ride the rickety elevator to check out the wares. The store, which has the look and feel of a SoHo art gallery, offers film as well as old Polaroid cameras that the startup refurbishes. "We're buying cameras furiously," says Impossible America Vice-President David Bias. "I have about 10 guys scattered around the country scavenging them for me at flea markets and yard sales."
The company says it pulled in a profit of $270,000 on revenues of $4 million in 2010. This year Saba expects Impossible to triple revenues and quadruple profit, selling 2 million eight-frame packages that retail for about $22. "There's a baseline potential for selling 10 million film packs [annually]," he says.
Kaps and his team have been able to turn a profit where Polaroid struggled because Impossible is so much smaller and its fixed costs are lower, says Chris Chute, a digital imaging analyst for researcher IDC. Polaroid's "production was coming out of these huge facilities, and once volume started to dip, the economies of scale worked against them," he says. Impossible's advantage is that "there are so many Polaroid cameras out there and the one thing that's missing is film."
Impossible isn't the only player in the market. Fujifilm has long made instant film and cameras, though its products aren't compatible with the classic Polaroid cameras. Fuji offers "the best image and best color reproduction in the photographic market," says Kayce Baker, the company's marketing director.
Polaroid, under new ownership since 2009, has also gotten back into instant film. Last April the company started reselling a Fuji instant camera and film packets under its own brand. Polaroid President Scott W. Hardy says he was impressed with Fuji's global distribution and image quality. The former pioneer is working on a camera that marries digital and instant photography, as well as filters that let customers choose the look of their instant products. "There's definitely a need for the artsy, surprise-me-with-how-it-develops film," Hardy says. "But for the mass market…there's a much higher standard in terms of the photographic quality."
Kaps isn't worried about the competition. He predicts that Impossible will prosper by catering to shutterbugs who love the imperfections of the original Polaroid. "The big advantage Fuji once had—which is the big disadvantage now—is that it's a far better quality product, so it almost looks like digital," he says. As for Polaroid's efforts to resell Fuji cameras and film, "It's as if Coca-Cola no longer had the recipe for its drink and just decided to put Pepsi (PEP) into their bottles."
The bottom line: After buying Polaroid's last film factory, the Impossible Project is making a profit where the instant-photo pioneer saw little future.
Before it's here, it's on the Bloomberg Terminal.
LEARN MORE