China-Europe International Business School
A Western-educated faculty, large alumni network, and international student body distinguish CEIBS, the granddaddy of China B-school programs
Michele Scrimenti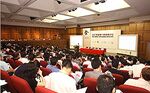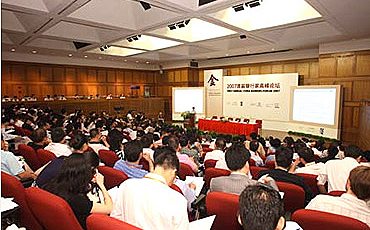 The China-Europe International Business School (CEIBS) in Shanghai is the one school on the mainland that contends for the top spot in Asia, but its administration isn't satisfied with just regional recognition. "We are already in the same market segment as the top schools in Europe and the U.S.," says Rolf Cremer, dean and vice-president at CEIBS. "We attract the same caliber of students as Harvard and Wharton."
CEIBS has the oldest continuous MBA program in China, and its history has been an important factor in its success today. In its first incarnation, CEIBS started offering classes in Beijing in 1984, a time long before China was awash in foreign capital and racking up double-digit growth. The school is a joint venture between the European Commission
China-Europe International Business School
| Vital Stats | CEIBS |
| --- | --- |
| Locations: | Shanghai, Beijing, Shenzhen |
| Program: | MBA |
| Program Length: | 18 months |
| Average GMAT: | 691 |
| Work Experience: | 5.4 years |
| Female: | 37% |
| International: | 36% |
and the Chinese government, and although the school has since branched out on its own, the two governments still provide considerable backing.
Since its earliest days, CEIBS has been accumulating more full-time faculty who have degrees from the best universities in the world and who conduct serious academic research. This trend has given CEIBS what Cremer calls "depth." The CEIBS faculty has more than 70 foreign-educated and many foreign-born professors who are at the school for the long term. While most other Chinese schools are still in the early stages of compiling case studies, CEIBS produces more than 50 a year. "If 20 of our best teachers suddenly disappeared, it would make no difference, because the next level of professors is just as good," says Cremer.
Impressive Alumni Network
Another first mover's advantage comes in the form of alumni. While the other top schools have only 20,000 to 30,000 alumni, CEIBS has an extensive network of more than 60,000 working in almost every sector. And CEIBS is no longer just a feeder school for the best enterprises in China—over the past two years, the school has seen an uptick in companies hiring and sending graduates abroad. CEIBS now has alumni centers in Korea, Singapore, Canada, and Europe.
What's more, foreign students increasingly are passing on top schools overseas to get their MBAs in China.
"It has becoming clearer that the driver of the global economy is Asia, and the hottest part of the fire is here in China," says Cremer. "And when you think about business schools in China, you think CEIBS."
While other schools are scrambling to attract foreign applicants, overseas students make up 40 percent of the student body at CEIBS, a number the school keeps stable to ensure that Chinese students remain the majority in the classrooms to keep CEIBS a Chinese experience.
Gaining China Knowledge
The large number of foreign applicants allows CEIBS to select the cream of the crop. Denise Pu, a Californian who worked for Bank of America (BAC) and Citigroup (C), turned down an offer from Columbia Business School (Columbia Full-Time MBA Profile) to come to CEIBS. "I realized that most of my clients at Citi had something to do with China, so I came here to get a real understanding of China," Pu says. "No matter what program you're in in America, you'll never get as much China knowledge as you do at CEIBS."
While each student's motivation to come to CEIBS varies, one thing is clear—the school has a culture of excellence. "There's something in the DNA of everyone here that is stacked against being in cruising mode," says Cremer. "That's how we always keep pushing forward."
Before it's here, it's on the Bloomberg Terminal.
LEARN MORE