Could Bowling Strike It Big in Times Square?
Bowlmor's Tom Shannon is counting on a $23 million bowling alley in the heart of Manhattan to become a hot location for corporate events
By and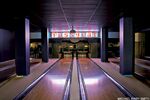 In 1997, Tom Shannon dropped $3,000 of his own money and $2 million cobbled together from business loans to buy a 60-year-old Greenwich Village bowling alley. A little more than a decade later, he's standing in what was once The New York Times newsroom, contemplating a far bigger bet: a $23 million, 50-lane bowling alley where he hopes corporate partygoers, tourists, and locals will spend loads of time and money.