business
Bartering Art for Health Care
A festival where uninsured artists and musicians exchange work for medical attention is attracting interest from organizers and physicians across the country looking to replicate the model
By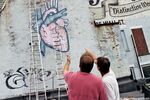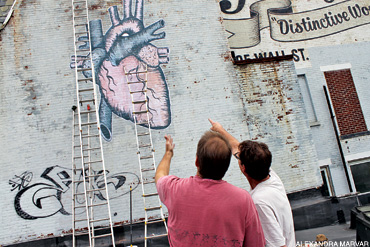 Jason Russo, a 37-year-old singer and guitarist from Brooklyn, hasn't had consistent health care since he was a teenager. In October he saw a doctor—though in an unconventional setting: a gig in Kingston, N.Y., 90 miles north of New York City. Russo was one of 70 musicians and artists who bartered their creative services for medical care at an event called the O+ Festival. "It was kind of an amazing thing to sit down with a regular doctor," he says. "Doctors are humans, it turns out. They enjoy rock music and art."
A group of artists and physicians in the Hudson Valley conceived of the gathering. About 40 doctors, dentists, physical therapists, acupuncturists, and others donated 232 hours of service, valued at more than $38,000, to the bands and artists who played or created sculptures or paintings. "It really is about … helping artists and musicians who are contributing to society find health care at affordable rates," says Arthur Chandler, a doctor at Columbia Memorial Hospital in Hudson, N.Y., and an organizer of O+ (pronounced O-positive).
Chandler and other organizers are incorporating O+ as a nonprofit and want to put on art-for-health-care festivals in Kingston and other cities next year. Like-minded artists, musicians, and physicians from Philadelphia, Minneapolis, Nashville, Berkeley, and Lowell, Mass., have contacted O+ looking to replicate the model. "It seems like something that should be everywhere and could definitely be everywhere," says Julia Henderson, a 32-year-old writer and development coordinator at a San Francisco theater who hopes to bring O+ to Berkeley. A transplant from Brooklyn, Henderson says she hasn't had insurance for six years.
In recent years, a handful of clinics and hospitals have introduced formal programs for artists to barter for subsidized care. Since 2005, Woodhull Medical Center near the Brooklyn neighborhoods of Williamsburg and Greenpoint—areas flooded with creative types in recent years—has let artists earn $40 in credit toward care for each hour of service they provide the hospital. The work can range from performing for patients, painting murals, or photographing portraits of mothers with their newborns.
Amy Duquette, who coordinates the program at Woodhull, says that 90 percent of the artists don't have any health insurance. "The life of an artist is you're freelancing, your pay is inconsistent," she says. About 600 people have used the program, and some artists have banked enough credits to pay for surgery.
Such programs aside, many self-employed artists like Russo struggle to afford health insurance or treatment when they fall ill. Russo says he lives on less than $25,000 a year from his two bands—a psychedelic rock group called Hopewell and indie-folk combo Common Prayer—and freelance Web marketing work. Once, when he got strep throat, Russo used medicine prescribed for friends' pets because he couldn't afford his own. "The only times when me or my musician friends consider getting health care are when the symptoms are acute," he says.
Artists who performed or created public works of art at O+ were asked to fill out forms describing the medical care they wanted. On the weekend of the festival, as music lovers poured into Kingston bars and restaurants, artists met with doctors and dentists in a makeshift clinic in the ballroom of the 111-year-old Kirkland Hotel. Mike Merenda and Ruthy Ungar, a husband-and-wife folk rock duo, each got dental cleanings and chiropractor visits. Although the couple, both 34, and their two-year-old son have coverage under a state-subsidized program, the plan doesn't cover dental or other wellness visits. While Merenda is grateful for the care, he acknowledges that it's no substitute for real insurance. "It was sort of a one-time fix, and even if they do it once a year, that's not going to solve all your health-care problems as they arise," he says.
Doctors, artists, and their advocates recognize the limits to the approach. "Bartering projects can be a great resource for a lot of people, but it's not a sustainable model," says Judilee Reed, executive director of artists' advocacy group Leveraging Investments in Creativity, which estimates that nearly two in five artists lack adequate insurance. Alexandra Marvar, an O+ organizer who performs with Russo in Common Prayer, agrees that O+ and similar programs can't replace insurance. But she says a series of such festivals around the country could at least offer "a Band-Aid solution to inaccessible health care."
The bottom line: A festival where artists and musicians barter work for medical attention is part of a growing movement.
Before it's here, it's on the Bloomberg Terminal.
LEARN MORE