Top Global Business Schools
The financial crisis left the MBA job market in Europe reeling, and helped propel INSEAD to the top of this year's international B-school ranking
Alison Damast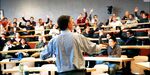 Pablo Garcia-Morera had almost everything in place he needed to launch a career in Spain after graduating from IE Business School (IE Full-Time MBA Profile) this past December. Though he is Filipino, his family owns an apartment in Madrid and he holds a European Union passport. All he needed to stay in Spain was a job, but finding one proved to be harder than Garcia-Morera, who worked as an account manager at Pepsi Philippines before getting his MBA, could ever have imagined. He spent the six months following graduation applying for dozens of openings in Spain, which has the highest unemployment rate in Europe, with little luck. His hopes rose when he landed interviews at Unilever's (UN) Barcelona office and Johnson & Johnson (JNJ) in Madrid, but neither opportunity panned out.
"The job market actually ruined my plans, and by May I had to give up and go back home," said Garcia-Morera, 30, who returned home to the Philippines to work as head of sales for his family food importing business. "It was disappointing because working in Europe would have opened new doors, but it was hard to even find an opening available."
Recent graduates from Bloomberg Businessweek's 10 top-ranked international business schools continue to be hit hard by the ripple effects of the global financial downturn, with an increasing number of students like Garcia-Morera resorting to their plan B or returning home after fruitless job searches in Europe. This year's still shaky market for MBA talent in Europe and Canada shook up this year's international ranking, with France's INSEAD (INSEAD Full-Time MBA Profile) taking the top spot.INSEAD climbed two spots since the previous ranking in 2008, pushing Canada's Queen's School of Business (Queen's Full-Time MBA Profile) out of the top slot.
Newcomers to Top 10
With jobs scarce, recruiting relationships shifting, and student anger at a boiling point, two newcomers to the top 10—No. 9 York University's Schulich School of Business (Schulich Full-Time MBA Profile) and No.10 University of Cambridge's Judge Business School (Judge Full-Time MBA Profile)—were able to elbow their way onto the list. On average, one in seven recent graduates, or 14 percent, were still without a job three months after graduation, according to placement data from the seven top-10 schools that reported it.
The hiring outlook in Europe remained challenging for the most recent group of MBA graduates, especially in countries still reeling from aftereffects of the financial crisis, said Nunzio Quacquarelli, managing director of QS Quacquarelli Symonds, a London company that organizes the annual QS World MBA Tour. "Europe is having a slow recovery and, if anything, countries like Spain, Greece, and others are not recovering yet," Quacquarelli said.
Despite the bleak economic outlook, business schools in Spain have still managed to hold their own in this year's ranking, with IE Business School and ESADE taking the third and fourth spots, respectively.
Dee Clarke, director of career services at ESADE Business School (ESADE Full-Time MBA Profile), said the number of graduates who work in Spain after graduation has declined by about 50 percent in the last few years. About one in four ESADE graduates, or 24 percent, were still looking for a job within three months of graduation, according to school data reported to Bloomberg Businessweek. "It used to be that people wanted to stay in Spain, but they recognize that the job market is not as attractive here," said Clarke.
Recruiting Shift
Instead, graduates are being drawn to opportunities in booming emerging markets like Latin America and Asia, or growing European markets like Germany and Switzerland, she said. For example, the percentage of recent graduates working in Asia after graduation has jumped to 11 percent, up four percentage points from 2010, according to school data reported to Bloomberg Businessweek.
At No. 3 IE Business School, , recruiting patterns have shifted as well, with more recruiters from Asia, Brazil, and India visiting campus. About one in 10 graduates, or 11 percent, were still looking for a job within three months of graduation, according to school data reported to Bloomberg Businessweek.
"Two, three, or even four years back, our largest recruiters were from our local market and that has changed radically, partly because of the economic situation in Spain," said Maria Fernanda Diaz, director of career services at IE. "We're telling students to do everything you can to find a job in Spain but to have a plan B, looking at the same time for a good job elsewhere in Europe or your home country."
Even European nationals have found it hard to make headway in the Spanish job market, where the unemployment rate has hovered around 20 percent for the last few months. Kevin Hogan, a 2010 ESADE graduate from Ireland, has lived in Barcelona for the past five years and planned to stay in Spain post-MBA. He's applied for about 20 openings in Spain in the last few months, but he's had trouble getting companies to even call him back. He's now interviewing for business development roles with companies in Holland and Switzerland, and has begun to come to terms with his imminent departure from Spain.
"The unemployment rate here has really made it difficult for a generation of people in their 20s and 30s," he said. "There's been no movement in the job market at all. I have no choice but to look further afield."
Options at INSEAD
At No. 1 INSEAD, 86 percent of graduates from the school's France and Singapore campuses had found jobs within three months of graduation, up one percentage point from 2009, according to the school. This fall, the school saw a 30 percent increase in on-campus recruitment and had 130 companies visit campus this fall, said Sandra Schwarzer, INSEAD's director of career services. The school has an edge in the job market, she added, because graduates are required to speak three languages, giving them a wide array of options in different countries during their job search.
Graduates from the school are increasingly turning their sights to jobs in their home countries directly out of school, Schwarzer said. That's a shift from a few years ago, when many non-European students wanted to work in Europe for a few years after getting their MBA, she added.
"Now they are targeting their job search at their home countries. If you look at Brazil or China, these are really booming economies and many students want to be there now while that is happening and participate in the growth of the economy, rather than being an expat for a couple of years," Schwarzer said.
Perhaps one of the greatest shifts in the European job market has taken place in the U.K., which tightened its immigrant policies in the last few years. Previously, any non-EU national from a top-100 MBA program could enter the U.K. as a "highly skilled migrant," with a one-year visa that allowed him or her to live in the country while looking for a job. Under the new law, recent MBA graduates have to meet certain requirements based on their qualifications, previous earnings, age, and language skills in order to obtain a visa.
The new immigration requirements have had an impact on placement numbers at schools like the U.K.'s Judge Business School, No. 10 in our international ranking. About a fourth of Judge's most recent graduating class was still looking for a job within three months of graduation, according to school data. In 2009, 52 percent of graduates ended up working in the U.K., a figure that dropped to about 44 percent in 2010, said Karen Siegfried, Judge's executive director of career services.
U.K. Work-Visa Gap
Complicating matters, the immigration law was tweaked this year so that students can only apply for visas after they have completed and received their MBA degree, Siegfried said. University of Cambridge doesn't confer degrees until October, which means students have to wait until mid-fall to apply for their work visa.
"Some U.K. employers don't like that gap. They may be trying to make a job offer in May, but they don't know whether or not that student will be granted a visa or not, so that is the big picture of the challenge," Siegfried said. "It has definitely changed the playing field."
The hiring picture has not been quite as volatile in Canada, where three of Bloomberg Businessweek's top 10 schools are based.
At No. 2 Queen's, the median base salary for students is up 16 percent and there has been a 25 percent increase in the number of companies recruiting on campus this fall, said Brian Marchant, director of the school's Business Career Center.
Job placement numbers are up at the No. 9-ranked Schulich School of Business in Ontario, where 86 percent of students found a job within three months of graduation, up six percentage points from 2009, said Joseph Palumbo, executive director of Schulich's Career Development Center. Top students have begun getting multiple offers again, salaries are up $7,000 over last year, and sectors like financial services, health care, and consulting have started to bounce back, he said.
"I think the job market in Canada is different than the U.S. in that generally our banks and other companies have done a little better this past recession," Palumbo said. "The feeling this year is very much a cautious optimism."