Skoopz: Sweet-Talking Wal-Mart
How two guys from Atlanta caught the eye of the giant retailer through a guerrilla marketing campaign
By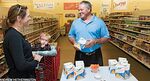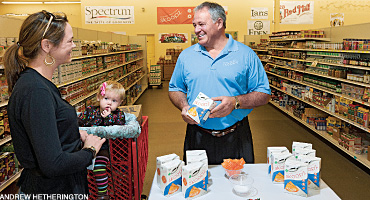 Go to one of more than 200 Wal-Mart Stores (WMT) in Texas, and on the shelf next to Cargill's Truvia sweetener is a startup brand called Skoopz. No one is as surprised as James Highsmith and Mark Benveniste, Skoopz's creators. Until a year ago, they had no particular expertise in the $400 million-plus artificial sweetener market. When the invitation to become a Wal-Mart vendor came by e-mail, "We actually kind of freaked out," Highsmith says in the conference room of a rented executive office suite just off Atlanta's
Perimeter expressway. Down the hall, the pair's cluttered one-room office overflows with T-shirts and Skoopz packets in the company's signature day-glo orange.
Skoopz evolved from neighborly talk and a college connection. With startup financing from a silent partner, the men stumbled on a natural extract and created their own version of a table-top sugar substitute that hit a price and taste sweet spot. Guerrilla marketing and help from a retail consultant in Bentonville, Ark., Wal-Mart's hometown, helped the fledgling company get its product into the giant chain.
Retail analysts say it's unusual for an unknown brand with no ties to any consumer products heavyweights to gain entrée to the company's stores. "A very small portion of the new products Wal-Mart sells are from small startup companies, because you have to be very sophisticated to work with them," says Leon Nicholas, senior vice-president of consultancy Kantar Retail.
Benveniste, 46, worked in telecommunications finance—and spent nearly four years in a federal penitentiary for bank fraud. "I did my time," he says. "I'm fortunate that I've been given a second chance." He and a third partner, who isn't involved in day-to-day management, met as neighbors near Atlanta. Casual conversations over yard work soon turned entrepreneurial. The neighbor, who doesn't want to be named, had already been talking about marketing natural products with Highsmith, 32, a college buddy who had worked in commercial real estate finance until his business collapsed during the recession. In late 2008, while still hunting for a product to sell, Highsmith invited Benveniste into the venture because of his retail marketing expertise. After his release from prison in 2007, Benveniste had been working for On The Go Hosiery, selling panty hose to retailers.
The Skoopz concept emerged seven months later during a meeting with an Atlanta health supplements maker. The manufacturer, which Skoopz's contract prohibits the men from naming, mentioned a stevia plant extract that it used to sweeten some of its products. Stevia extracts can be hundreds of times sweeter than refined sugar, yet they are noncaloric and natural. The Food and Drug Administration had green-lighted the extract the previous December, and Highsmith and Benveniste loved the sweetener's taste.
The men faced deep-pocketed competition. Cargill and Coca-Cola (KO) had teamed up on Truvia, and Merisant was working with PepsiCo (PEP) on its version, PureVia. Both groups were pouring money into advertising around the U.S. Highsmith and Benveniste believed there could be room for Skoopz since Cargill and Merisant had cleared the way with regulators and boosted public awareness of stevia sweeteners.
The partners hired a food chemist to tinker with dozens of formulas until they found one they believed had less aftertaste and could be sold cheaper than rival products. (At Wal-Mart, a box of 100 packets of Skoopz is $5.98—the same price as 80 packets of Truvia.) They settled on the name Skoopz during a long Saturday night meeting at Benveniste's kitchen table. The name seemed a natural, Benveniste says, since "you go into a shop and say, 'Can I get a vanilla latte with two scoops."' They chose orange for their packets to contrast with the blue, pink, and yellow packages already in restaurant sweetener caddies and the green used by Merisant and Cargill.
The men have gotten Skoopz into an Arkansas-based grocery chain called Harps and Atlanta area health food stores. And a retail contact in Bentonville liked the product and recommended it to a broker in town called Strategic Retail Solutions, or SRS. In December, Benveniste and Highsmith drove 13 hours to Bentonville in Benveniste's 1999 Dodge pickup to meet with SRS, which has close connections to Wal-Mart. Benveniste and Highsmith, though, thought it would take months to actually get in the door with the chain. "We didn't think that we would be able to fast-forward into it," Highsmith says.
SRS went to work selling Skoopz to Wal-Mart. In a guerrilla marketing effort, the men also planted their orange sweetener packets on restaurant tables, in churches, and at schools across Bentonville. It worked: Wal-Mart executives who had already happened on Skoopz around town were familiar with the brand when SRS made its pitch. In September, Wal-Mart began carrying Skoopz in Texas.
Highsmith and Benveniste expect Skoopz to be profitable early next year, though they decline to disclose revenue figures. Skoopz has bought ads on Texas radio, and if the sweetener does well at Wal-Mart the partners hope to take it national soon. "This is the opportunity to be in the world's largest retailer," Benveniste says. "It's not taken lightly."
The bottom line: With guerrilla marketing and some help from a Bentonville retailing consultant, an unknown brand managed to get into Wal-Mart.