In the West Bank, Taybeh's Palestinian Oktoberfest
After years of trouble, a brewery in a Christian enclave is increasing sales to Israelis and Palestinians alike
by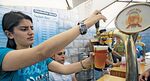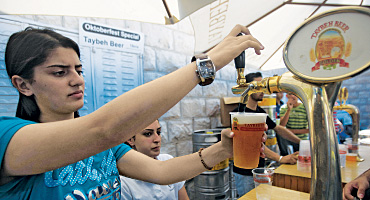 The second Intifada, Nadim Khoury says, may have been the low point for his family's business. As owner of the only brewery in the West Bank, though, he has faced plenty of other troubles even without the years of violent insurrection. There's the disdain that many of his Muslim neighbors have for alcoholic beverages. There are the Israeli checkpoints where beer can spoil as delivery trucks wait for hours under the hot Levantine sun. There's the lack of any outside financing for such an unlikely enterprise. "We are running this business against all odds," says Khoury, 51, who with his brother, David, 15 years ago started Taybeh Brewing in Taybeh, a town of about 1,600 residents 20 miles north of Jerusalem.
After years of scraping by, the brewery today returns a decent profit and is expanding to meet growing demand. The company has 15 employees, and sales in 2009 topped $1.5 million, with production up 25 percent in the past two years. "We do this due to our shared love of the motherland and making beer," says Nadim, who discovered his passion for brewing three decades ago and went on to study beer production at the University of California at Davis.
Nadim Khoury returned to Taybeh, his family's ancestral village, after nearly two decades in Boston, even as other Palestinian Christians were abandoning the West Bank. David joined him there in 2000. The brothers and their father sold stocks, a house, and two liquor stores in Massachusetts to come up with the $1.2 million they needed to start Taybeh Brewing. "People thought we had gone completely nuts," says Nadim.
In 2005, David Khoury, 54, was elected mayor of Taybeh, the last all-Christian town on the West Bank. As mayor, he has promoted Oktoberfest, the annual autumn celebration of beer culture, to draw tourists to the town—and sell more brew. "We are creating a sense of normality for Palestinians," says David, his dark suit soaked in sweat from the stifling heat as music from this year's celebration seeps through the windows of the one-story concrete building that serves as Taybeh's city hall. "It's great to be able to bring so many people together."
Over the weekend of Oct. 2, the Taybeh Oktoberfest drew thousands of beer fans to the hilltop town where Jesus is said to have walked. Visitors watched a Brazilian bossa nova band, Palestinian hip-hop performers, and Sri Lankan traditional dancers. The menu featured pita with Labaneh cheese, falafel sandwiches, grilled lamb skewers, and blonde and dark brews from Taybeh—which, in a fortunate coincidence for the brothers, happens to mean "delicious" in Arabic. "They make great beer, which you can't find anywhere else in Palestine, so people come here to just let go," says Jeries Zahran, a 20-year-old management student at Bethlehem University.
The Palestinian insurrection known as the second Intifada nearly scuttled the business. After the fighting began in 2000, the West Bank was plunged into five years of violence and chaos, and the brewery's output fell by 90 percent because few people could afford luxuries such as beer. Since the worst of the fighting wound down about five years ago, production has climbed steadily. This year it will hit 600,000 liters, 20 percent more than Taybeh produced before the Intifada. The Khourys are now buying four fermentation tanks and hope to increase production 50 percent next year.
About 30 percent of the Khourys' beer is sold in Israel. Although the brothers spend almost nothing on advertising, they have built a thriving market in a handful of pubs and restaurants such as Jerusalem's American Colony Hotel, a watering hole for many diplomats and journalists. David says they would like to find a distributor in Israel to help increase sales. An additional 10 percent of production is shipped overseas, much of it to Japan, where importer Yoshihiko Miyazawa has helped establish the brand. "Palestinians have a very rich culinary culture, and the Japanese like that," Miyazawa says as he quaffs a Taybeh lager at the Oktoberfest.
It's the brewery's home market, though, that's growing the fastest. Taybeh is surrounded by Muslim towns, so the Khoury brothers have added non-alcoholic beer to their lineup. On the eve of last year's Oktoberfest, someone tossed a Molotov cocktail at David's car, an attack townspeople believe may have come from Islamic extremists who oppose alcohol consumption, though no one has been arrested. Nonetheless, Taybeh beer is getting more popular in pubs in West Bank towns such as Ramallah and Bethlehem—which Nadim says is likely due to growing sales to Muslims. "The amount of alcohol we sell in the Palestinian territories," he says, "cannot be drunk by the Christian population only."
The bottom line: After nearly being driven out of business by the Intifada, a brewery in the West Bank is expanding to meet demand.
Before it's here, it's on the Bloomberg Terminal.
LEARN MORE