The 20-Year Miracle
Welded together from unequal parts, modern Germany has overcome historic challenges and matured into Europe's economic powerhouse. Scenes from a marriage that's a little short on romance—and long on success
by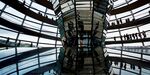 There won't be many birthday parties for Berlin this year. The city's main thoroughfare, Unter den Linden, is still jammed with tourists, and the Prussian-era museums, destroyed by Allied bombs during World War II, have been restored to their former glory. The cafés and bars of Mitte, in what used to be East Berlin, overflow with polyglot congregations of artists and hipsters. But Berliners are staying stoic about Oct. 3, 2010—the 20th anniversary of German unification, an event that ended four decades of German division and closed the books on the Cold War. Last November the commemoration of the fall of the Berlin Wall brought 35 heads of state to the German capital. Only a handful are expected this time. Even German Chancellor Angela Merkel plans to be out of town. "We're all still exhausted from last November," says Constanze Stelzenmüller, a senior fellow at the German Marshall Fund in Berlin. "I don't find myself getting excited about Oct. 3 the way I did last year."
Most Germans identify Nov. 9, 1989—the night the Wall came down—as the date on which the nation reclaimed its destiny. The images of East Berliners running through the Wall and into the arms of strangers on the other side, of ordinary people hammering concrete and drinking champagne at the Brandenburg Gate, remain indelible. Few of the East Germans who streamed into West Berlin on that November night in 1989 would have predicted that the two Germanys could become a single, free, and democratic state within a year—or that the Iron Curtain would crumble. That the unimaginable did occur in the heart of Europe two decades ago made the world a better, safer place. And so even in the absence of conspicuous revelry, the events that culminated in the peaceful unification of Germany are still worth celebrating. When you ask Germans today to describe, 20 years later, what unification meant to them, one word invariably recurs: To them, it was a "miracle." Perhaps a bigger miracle is that the next two decades turned out as well as they did.
Today, Germany is the most important country in Europe. Its export-driven economy is the envy of the developed world. Second-quarter gross domestic product rose 9 percent, the fastest pace in two decades. German business confidence hit its highest level in more than three years in September, suggesting that German companies can withstand weaker demand for exports should the global economy slow.
The rest of Europe has become dependent on Germany's size, industry, and frugality, and many of the country's business leaders—and largest exporters—are reconciled to the need to support weaker nations. "A single European market is a blessing for all," says Wolfgang Mayrhuber, chairman and chief executive officer of Deutsche Lufthansa.
Executives may bask in Germany's status as Europe's economic engine, but ordinary Germans are still ambivalent. The Merkel government's reluctant $11 billion contribution to the EU fund that stabilized the Greek debt crisis last spring has fueled widespread euro-skepticism. According to research firm Forsa, more than half of Germans say the Greek bailout was a bad idea, and close to two-thirds believe the euro is a weak currency.
The public's reluctance to use German strength on behalf of the rest of the Continent reflects the fact that the debate over the costs and sacrifices of unification is still fresh. West Germans have spent more than $1 trillion to rebuild the crumbling factories and cities of the East, with inconsistent results. Without tax breaks, infrastructure investment, and fast-track approvals, "most companies in the former East Germany would have stood no chance of survival," says Jürgen Hambrecht, chairman of BASF's management board. Hambrecht adds that BASF wouldn't have invested €1.3 billion in its Schwarzeide industrial site in East Germany without these incentives.
Eckhard Cordes, CEO of retailer Metro Group, says the "overall economic impact of reunification was positive." An economy of scarcity was replaced by a modern, thriving retail sector whose total space devoted to sales tripled in the six years following unification. Yet for many of the 18 million citizens of the former GDR, life in the new Germany has meant joblessness, dislocation, and the collapse of the bland security that typified life under communism. Public opinion surveys show that Germans are more willing than ever to say they are proud of their country, but soaring deficits and an aging population temper their enthusiasm. Two decades since unification, the national mood betrays as much anxiety as it does confidence. "The outside world sees a new German giant: prosperous, self-sustaining, assertive," says Ulrike Guérot, a Berlin-based senior research fellow at the European Council on Foreign Relations. "But if you look in greater detail, you see an ever more fragmented political system and society. And so there's this intuitive dissatisfaction here, a sense that something is going wrong in Germany."
Such discontent is largely unwarranted. Germany's problems pale in comparison to those faced by other industrialized nations. As Germans grapple with the implications of their growing power, it's instructive to look back on the remarkable, challenging, and sometimes painful journey that led them here. The rebirth of a united Germany was "the most moving experience in our lifetimes," in the words of former West German President Richard von Weizsäcker, but it was also the start of a period during which Germans struggled to adjust—not just to each other but also to their role in Europe and their place in the world order. "It's like a marriage," says Carl von Hohenthal, a former political correspondent for the German daily Die Welt. "When you start out, you are very much in love, and even though you might have fears and you aren't sure about everything, you decide to do it. But eventually reality sets in."
"Screaming for Unification"
The fall of the Berlin Wall did not make unification inevitable. Although nominally self-governed, the two German states had for 40 years existed under the controlling authority of the four victorious World War II powers: the U.S., Great Britain, France, and the Soviet Union. As of 1989, hundreds of thousands of foreign troops, including close to half a million members of the Red Army, were still stationed on German soil. In the weeks leading up to Nov. 9, discontent with the Communist regime in East Germany produced huge street demonstrations and a seemingly unstoppable exodus of Germans fleeing to the West. Soviet leader Mikhail Gorbachev had told officials in the GDR that if East German citizens attempted to breach the Berlin Wall, Soviet troops would not intervene to stop them. But Gorbachev was adamant that Germany remain divided into separate states, a position shared by British Prime Minister Margaret Thatcher and French President François Mitterrand. "They were worried that history might repeat itself—that a unified Germany in the heart of Europe would lead to another conflagration," says James Baker III, Secretary of State under then-President George H. W. Bush. "We were the only ones besides the West Germans who were seriously interested in moving this thing."
The West Germans had doubts of their own. Helmut Kohl, the conservative Chancellor of the Federal Republic, told aides unification would take at least five years, if it happened at all. Other West German politicians were even more skeptical. "A big part of the political class here did not believe in unification," says Michael Mertes, a former aide and speechwriter for Kohl. In the halls of the West German government at the height of the Cold War, the word "unification" was rarely, if ever, mentioned. By the 1980s, "the West had pretty much forgotten about the East," says von Hohenthal. "No one really spoke about East Germany anymore. Most young people didn't even know where some cities in the East were."
What few West Germans appreciated, or even knew about, was the sudden clamor for change among East Germans who had glimpsed freedom when the Wall came down. They had no intention of turning back. A month after the Wall's opening, Kohl made a trip to Dresden, the bombed-out city that was still a part of the East. Throngs came out to cheer him and plead for German unity. "Kohl was not a great speaker, but he had a tremendous feeling for the people," says von Hohenthal, who covered Kohl's trip for Frankfurter All­gemeine Zeitung, Germany's largest newspaper. "I remember looking at the faces of the people—they all were wearing black, red, and gold and chanting, Helmut, Helmut!' You could just sense that the East Germans were absolutely longing—screaming—for unification."
By the start of 1990 the Kohl government seized the opportunity and pushed for a rapid, one-state solution. The Soviets presented the biggest dilemma: Letting go of the GDR, Moscow's most important satellite in Central Europe, would be tantamount to conceding defeat in the Cold War. To exact agreement from the Soviets, Kohl turned to Bush, who persuaded Gorbachev to accede to unification and to accept the incorporation of a unified Germany into NATO rather than keep it neutral. In exchange, Kohl pledged $9 billion in economic aid to the Soviet Union, much of which would pay for the withdrawal and relocation of Soviet troops returning from East Germany. At a meeting in the White House Cabinet Room on June 2, 1990, Gorbachev told Bush that if a unified Germany chose to join NATO, Moscow would not stand in its way. "I don't think we ever knew for sure this would be a success," Baker says now. "But when Gorbachev agreed that a country could choose the alliance it belonged to, that's when we figured that this thing is definitely going to make it."
While Bush, Kohl, and Gorbachev hammered out a deal on NATO, the legal details of how to unite the two states formally and remove foreign troops were worked out through the "2+4" negotiations——involving representatives of the two Germanys, plus those from the four occupying powers——a process devised by Washington to limit the circle of actors with a say over Germany's future. The final treaty re­establishing German sovereignty was drafted by the end of the summer and signed in Moscow on Sept. 12, 1990, astonishingly quick by the glacial standards of international diplomacy.
The negotiators had glossed over the consequences for the citizens of the GDR, many of whom were unprepared for the coming transformation of their way of life. Yet it's difficult to see how it could have happened any other way. Within a year of the Moscow treaty, Gorbachev was pushed out of power by hardliners in the Kremlin. The Soviet empire collapsed. Negotiating with more mercurial figures in Moscow, let alone with the leaders of 15 newly independent former Soviet republics, might well have proved impossible for Western officials. "There was no script," says Wolfgang Ischinger, a former German ambassador to Washington, who was at the time an official in the West German Foreign Ministry. "Nowhere in the world had there been this kind of process, of unifying two neighboring countries that belonged to two diametrically opposed political systems. There was no plan that we were able to pull from our desks to show us how to do it. We had to invent solutions as we moved forward."
"Poor Cousins"
By some measures, the results have been uneven. Despite the transfer of $1 trillion from West to East since unification, living conditions in much of the former East Germany show few signs of improvement. With the disappearance of internal borders, some 2 million East Germans moved west, sapping the region of what little intellectual capital and technical knowhow it had left. Industrial towns once heavily subsidized by the Communists collapsed. At least one of Kohl's early moves, to introduce the deutsche mark into the GDR at an exchange rate of 1 to 1, is now viewed as a devastating blow to East German producers, whose goods were suddenly unaffordable outside their borders. John Kornblum, a former U.S. Ambassador to Germany, says West German officials "didn't understand the need to rebuild the society structurally, politically, even spiritually. The beginning was bad—people in the GDR were like poor cousins who were given money and told to be quiet."
And now? German unemployment fell for the 14th straight month in August, and unemployment in the six states of former East Germany fell below the 1 million mark for the first time since 1991. Still, even those former residents of the GDR who have succeeded in the new Germany say a sense of disorientation persists. Over coffee in a courtyard café in Berlin, Sophie Reinhold, 28, recalls growing up on the eastern outskirts of the city in one of the soulless "concrete jungle" complexes built by the Communists. Her family, she says, was "always waiting for the moment when the Wall came down." After unification, Reinhold traveled overseas before settling in central Berlin to pursue a career as an artist. She finds she shares nothing with old acquaintances who stayed behind in the East. "I don't know anyone from back then, and I'm still in my hometown," she says. Her parents, too, have lost contact with their former neighbors from the East, many of whom failed to make the transition to life in a capitalist society. "Most of their friendships are broken," she says.
Germans acknowledge that it may take years, even decades, before the country's social fabric, sundered by a century of war and division, comes together again. "Politically we've become one country, but not economically," says Wolfgang Thierse, a former anticommunist dissident in the GDR. "We haven't finished the process. We're maybe two-thirds of the way there. But there's still a way to go." We were sitting in a conference room looking out on the Reichstag. Once the seat of the German empire, the building was razed by the Nazis, plundered during World War II, and rebuilt after unification. It is now home to the German Parliament, of which Thierse is vice-president. It was a bright fall afternoon, and I could see tourists making their way up and down the ramps of the Reichstag's redesigned glass dome, a sight that serves as a reminder both of Germany's past and how far the country has traveled to overcome it. Indeed, for all the travails of unification, precious few East Germans would go back to the old days, even if they could. When asked by the research firm Sozialreport earlier this year whether they wanted the Wall back, only 9 percent of East Germans said yes—fewer than the number of West Germans (11 percent) who did.
Accelerating EU Growth
How much has Germany changed since 1990? Put the question to Germans, and many will point to the transformation of the country's self-image, the sense of national pride that was consciously suppressed, in both East and West, after the horrors of World War II. "What happened in the 20th century is still a nightmare in our souls," says von Hohenthal. "The crimes of the Nazis and the experience of losing two world wars made us deeply insecure. For a long time, we weren't sure about our culture and our position in the world. And so we shut up and made money. Nothing else was expected of us." The aversion to public displays of patriotism fell away in 2006, when Germany hosted the World Cup. The nation was awash in the colors of the German flag. "We startled ourselves," von Hohenthal says. "It was the first time we truly accepted that we were no longer disliked by the rest of the world."
The admiration Germany enjoys today has been hard-won. In the years following unification, Germany was often described as "the sick man of Europe," in part because of the enervating cost of uniting two separate disparate economies. Perceptions changed after Chancellor Gerhard Schröder, a Social Democrat, deserted many of his party's tenets in 2003 to propose cost-curbing measures on Germany's social system. Called "Agenda 2010," Schröder's plan included tax cuts and reductions in pension benefits and reimbursement for medical expenses. In return, German industrialists promised to maintain employment in tough economic times through shorter workweeks and extensive training programs, even if profits suffered. "Schröder's implementation of Agenda 2010 produced a series of surprisingly significant reforms in Germany," says Mathias Döpfner, chairman and CEO of German publisher Springer. "The concessions from labor in the last 10 years added a competitive edge to German products," says Cordes, Metro Group's CEO. "They have played a key role in Germany regaining its economic edge." BASF's Hambrecht adds that "German companies are more long-term focused" and management is more focused on stakeholders, including workers, than on shareholders. "The aftertax return on sales, for example, normally is below the average returns in the Anglo-Saxon economies because we strive for a different balance between economy, ecology, and social responsibility."
Today, says Lufthansa's Mayrhuber, "The structure of German industry is healthy. Good products, known brands, a solid mixture of small, innovative businesses networking with globally recognized corporations" generate the right balance between risks and rewards.
Germany has also benefited from the painstaking efforts taken by the country's leaders to "embed" Germany in a wider European system. The creation of the euro dates to the unification debate 20 years ago when Kohl placated Mitterrand's fears about renascent German power by pledging to join a common European currency. "One of our main goals was to make it crystal clear to everyone that Germany would become an integrated part of the European Union," says Mertes. It worked. "Compared to the resentments and fears one could have seen, today no one would say Germany is in danger of becoming a hegemonic power in Europe." If anything, the German willingness to underwrite the pan-European project has accelerated other countries' rush to join it. In 20 years the EU has grown from 6 nations to 27; NATO counts 28 member states, up from 16 in 1990. It's no exaggeration to say that the contours of the Western world as we know it were forged by German unification. As a result, the European Continent is more peaceful and unified now than at any time in modern history.
Some of that unity, however, is fraying. Over the past year, Germans have watched their Western peers, notably the U.S., stumble far more during the global recession than Germany, with its export-driven economy. Even the Merkel government's domestic opponents bristle at the criticisms levied against it by outsiders like French Finance Minister Christine Lagarde, who earlier this year called on Germany to take steps to boost domestic demand and reduce its $18 billion trade surplus, all in the name of propping up weaker euro zone economies—like France's. Germans are cold to the idea of saving other EU governments from themselves, even if that threatens the viability of the euro. Although Merkel reluctantly agreed to back the Greek bailout last spring, it's far from certain she will be as generous the next time around, particularly if Germany's current rate of 3 percent economic growth slows. "We are outgrowing Europe, that is the thing," says researcher Guérot. "We want the benefits of Europe and we want to keep the euro. We are not anti-European. But Germans are saying, Please leave us alone. Take away this responsibility for the whole European movie.' "
In a globalized age, however, turning inward isn't an option—least of all for a nation whose prosperity at home depends so heavily on safeguarding markets abroad. "What's right or wrong isn't even a question," Guérot adds. "The reality is that because of our sheer size and economic power, it's Germany that drives the EU." That presents challenges and opportunities. With Washington's influence in decline, promoting U.S. interests will require a strong and stable Europe—which in turn depends on the leadership of an assertive Germany, mindful of its past but unafraid of the responsibilities that come with success.
Two decades after unification, Germany is "stable, democratic, and prosperous," says John Kornblum. "It's exactly what we wanted it to be." The task now for Germany's friends—something unimaginable just a few decades ago—is to help it get even stronger.
East Germany by the Numbers
East German Brands that Refuse to Die
Before it's here, it's on the Bloomberg Terminal.
LEARN MORE