business
Germany's Growth: New Rules, Old Companies
As most developed nations stumble in the race against emerging nations, here's how Germany has succeeded in keeping skilled labor working in good jobs
By , , and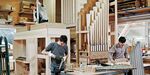 In German, die rote Laterne—the red lantern that hangs off the caboose of a train—is slang for last place. Less than a decade ago, Germans were wondering whether that was an apt description for their own dawdling nation. Germany produced top-quality technology but seemed held back by an aging, risk-averse population and a sclerotic business culture. In 2005, Germany's 10-year growth rate was half, and its unemployment rate more than double, that of the U.S. rate The Mittelstand—Germany's small and midsize manufacturers, often family-run—seemed like a relic of Europe's industrial past.
That has changed. Germany is now growing faster than the U.S. and has a lower jobless rate (7.6 percent in August vs. 9.6 percent). In the second quarter its economy bloomed at an annualized pace of 9 percent. On Sept. 16, the Federal Labor Agency's IAB research institute predicted that, despite a shrinking working-age population, Germany is set to have the highest number of people working since reunification. While the U.S. flirts with Japanese-style deflation, Germany's looming problem is worker shortages. "The German economy remains the showcase of the euro zone," Carsten Brzeski, an economist at ING Group (ING) in Brussels, says.
Germany is Europe's largest economy, with 82 million people and a €2.4 trillion ($3.23 trillion) gross domestic product, sprawling from the Rhine to the Oder—the hinge between the European Union's East and West.
Its newfound success was two decades in the making. Early on, in 1990, reunification opened the door for massive investment by German companies, mostly in the former East Germany. In 1999 the adoption of the euro, which overvalued the deutsche mark, forced German companies to cut costs and increase productivity to compete in the export market. More significantly, labor market measures begun in 2003 under Chancellor Gerhard Schröder made it easier to hire and fire workers, and Germany's Mittelstand have proved nimble competitors. In its achievement, Germany may serve as a model for other Western economies competing with emerging markets.
German corporations saw reunification as a chance to grow. It energized the nation's businesses, says Karl-Ludwig Kley, chief executive officer of Merck KgaA, a family-controlled drug and chemical company that shares historic roots with Merck (MRK). "Reunification has given the German economy a serious boost in terms of investment, entrepreneurship, and a sense of creating something new," he says.
Labor reform played an important role. In the early 1990s multinationals such as Siemens (SI) and Volkswagen coped with a global slump by brokering deals with unions that allowed them to opt out of collective wage agreements. In 1994 companies got out from under rules that limited temp workers' tenure to just six months, after which they had to become permanent workers with full benefits. Such deals, combined with the introduction of the euro in 1999, produced short-term costs for Germany but long-term benefits, allowing companies more flexibility in hiring.
It was a start. Germany still had a long way to go. By 2003, Chancellor Schröder—known as the "Basta Chancellor" for his uncompromising ways—had had enough. The economy was in another recession, unemployment was high, and the social welfare system was underfunded and close to collapse. Schröder, leader of a left-leaning coalition of the Social Democrats and the Green Party, threatened the trade unions: If they didn't voluntarily agree to new wage and hiring rules, he would make them into laws. This allowed companies to break onerous wage agreements. For their part, German labor unions gave up wage increases in return for job security.
In November 2004 workers at Volkswagen, which had posted seven straight declines in quarterly profits, agreed to wage freezes and cost cuts worth €2 billion.
Schröder's campaign for labor market flexibility culminated in 2005 with a reform package called Agenda 2010. Trade unions hated it because it compromised Germany's "cradle-to-grave" safety net by cutting jobless benefits, asking workers to pay a small part of their health-care costs, and putting more pressure on the unemployed to take low-paid work or employment outside their area of training.
These reforms "would have been unthinkable until 2002," says Christine Trampusch, a professor of comparative politics at the University of Bern in Switzerland. "They only happened because the Chancellor stopped asking the trade unions' permission and instead relied on a coalition between business and the state to push the reforms."
By a measure of worker productivity per euro spent, Germany became 13 percent more competitive against its neighbors in the 11 years through 2009, according to the European Central Bank. "Agenda 2010, which created a low-wage sector, was crucial in terms of laying the foundations for the current employment boom," says Hans-Werner Sinn, president of the Ifo Economic Research Institute in Munich, which advises the government.
Although they worked, the tough reforms compromised Schröder's popularity. Angela Merkel, who succeeded him in 2005, reaped the benefits. For a time, stronger growth produced soaring tax revenues. Then the global financial crisis hit. German exports plunged, and companies feared they would have to lay off thousands. Merkel, though a Christian Democrat and economic conservative, pushed through employer subsidies to reduce layoffs.
As the global economy recovered, German companies were ready. By June 2010, Daimler (DAI), BMW, and Volkswagen's Audi unit were adding employees and cutting summer factory breaks as demand for luxury cars returned more quickly than expected.
It wasn't just large multinationals fighting for labor reform or driving the economy. The Mittelstand companies, which typically employ fewer than 500 workers, comprise more than 70 percent of German workers and contribute roughly half of the country's GDP. The Mittelstand also embodies the German approach to business practice—paternalistic, consensual, conservative, and arguably more effective over the long haul than what Germans sometimes dismiss as American-style cowboy capitalism.
Far from being relics of a simpler time, Mittelstand companies have emerged as successful models in an era of globalization—agile creatures darting between the legs of the multinational monsters. Their blend of high technology, long-term thinking, and focus on quality has helped German manufacturing through the recession. "The continuity of Germany's Mittelstand is a pillar of society that has helped avoid a surge of unemployment during the latest crisis," says Hans Jäckel, an economist at DZ Bank in Frankfurt, the central institution for cooperative banks. "The labor market has been lucky because of the Mittelstand's long-term focus."
The Mittelstand approach encourages and benefits from a strong sense of social responsibility. Government policy helped Mittelstand companies hang on to workers through the 2008-09 recession. Rather than firing workers, companies reduced hours, saving almost half a million jobs. Under a government-subsidized short-work plan, or Kurzarbeit, companies were able to move employees temporarily into abbreviated working weeks. The government paid employees up to two-thirds of the money they would have made had they worked their normal hours. Mittelstand companies also took advantage of a system of worktime accounts that enabled employees to work fewer hours without a reduction in pay, in exchange for promising to work more hours without a salary increase when business picks up.
The aggregate effect was lower unemployment—and a quicker response when the global economy turned around. By May of this year, unemployment in Germany was at 7 percent, a 17-year low.
Mittelstand companies also resisted the credit crisis better. Traditionally, they prefer bank loans to selling bonds or issuing stock, avoiding short-term pressures from bondholders and shareholders. To keep the financing flowing, Merkel in December 2009 met with leaders from the banking industry to ensure that companies were getting sufficient funding. Savings banks increased lending last year, while state-owned development bank KfW Group made €40 billion in loans available as part of the government's economic stimulus program. Deutsche Bank (DB) and Commerzbank (CRZBY), the country's two largest financial institutions, set up separate funds to ease financing for the Mittelstand.
All this ensured that, even at the height of the financial crisis, the Mittelstand had access to financing. "There never was a credit crunch," says Patrick Adenauer, a grandson of former Chancellor Konrad Adenauer and president of the German association of family-owned companies known as ASU. Says Adenauer: "The German economy is financed long-term, and that's part of our culture and shouldn't go lost even if the Anglo-Saxons always tell us it's hogwash."
All of this is not to say that Germany has solved its economic problems. Adam Posen, a senior fellow at the Peterson Institute for International Economics and a member of the Bank of England's Monetary Policy Committee, wrote a paper in 2003 called, "Is Germany Turning Japanese?" He says that the country appears to have dodged the stagnant fate of Japan, but that doesn't mean its future is certain. Germany, Posen says, remains overly dependent on exports, as does China. Similarly, he says, the nation's wages are too low, depressing domestic consumption. "The issue isn't Germany turning into Japan now," says Posen. "The issue is Germany turning into China." Some German economists have made a similar diagnosis. "Fundamentally, it was wage restraint over the last 10 years that's responsible for Germany's success," DZ Bank Chief Economist Stefan Bielmeier says. "It's questionable whether that model is sustainable going forward."
Every mature economy, of course, has its challenges. Germany has managed its particular issues better than most of its peers. At least, says former Finance Minister Peer Steinbrueck, "Nobody is talking about the consumptive sick man of Europe anymore."
Before it's here, it's on the Bloomberg Terminal.
LEARN MORE