Ideas Wanted: Multinationals Open Doors to Entrepreneurs
Giants such as GE and PepsiCo are sponsoring competitions that let startups strut their stuff
by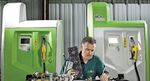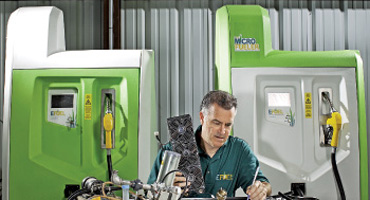 Tom Quinn isn't the kind of entrepreneur who needs help getting his ideas in front of the right people. He's a former president of networking software maker Novell (NOVL), and he invented the motion-controller technology behind Nintendo's (NTDOY) Wii while running a company called Gyration, where he raised $40 million in venture capital. So why is he pitching his latest idea—a portable system to convert food scraps and other waste into ethanol—on a website frequented by basement tinkerers and dorm-room startups?
Quinn's E-Fuel is among more than 1,000 companies, inventors, and students vying for funding in a General Electric (GE) contest called the ecomagination Challenge. A half-dozen winners will get cash prizes of up to $100,000. More significantly, GE and four venture capital firms plan to invest $200 million in the best clean-technology ideas entered in the contest.
A partnership with GE could give a big boost to E-Fuel, which now has 25 employees and has sold 50 of its biofuel systems. (They retail for $10,000, though a 50 percent federal tax credit can cut the cost in half.) Quinn says GE could manufacture the machines at lower cost and deploy its army of salespeople to get E-Fuel's products to customers worldwide. "I think we'd be a multibillion-dollar company," Quinn says. "And I'm a guy that's created multibillion-dollar companies."
GE's contest is one of at least a dozen similar programs sponsored by corporations casting a wider net for new business ideas, in the process creating opportunities for entrepreneurs. Such contests have "just exploded," says Jay Rao, a professor of innovation at Babson College in Wellesley, Mass. Cisco Systems, Netflix (NFLX), and PepsiCo (PEP) have launched competitions to incorporate outside ideas into their businesses, offering winners cash prizes or partnership opportunities. Procter & Gamble (PG), Starbucks (SBUX), Dell (DELL), and others have pages on their websites where entrepreneurs or customers are encouraged to suggest new products. P&G says it has licensed more than 1,000 ideas through its open innovation program, including some submitted via its website.
GE is the first to meld an open call for ideas with such a large commitment to invest in outside companies. Anyone is welcome to submit ideas on the ecomagination website, and the public and competitors can scrutinize, comment, and vote on them. After the contest closes in September, GE and its venture capital partners will choose the businesses they want to invest in. Beyond funding, GE may offer entrepreneurs the chance to work with its researchers or to develop or distribute a product jointly. GE aims to commercialize ideas faster than startups could on their own, says Steve Fludder, the executive overseeing the challenge. "We can kind of bolt them onto our $40 billion energy business," he says.
Pepsi­Co's competition, launched in June, was designed to find digital marketing partners for the company. From more than 500 entries, the food and beverage giant chose 10 social media and mobile marketing startups to work with PepsiCo brands. "It's a whole new way of potentially partnering," says Bonin Bough, PepsiCo's director of social and digital media.
Some entrepreneurs worry about divulging too many secrets or giving up their rights. While GE makes no claim on the intellectual property submitted to its contest, Cisco retained the rights to license technologies entered in its two iPrize competitions, which offered $250,000 for ideas that might lead to new lines of business. "You have to be incredibly careful about what information you put out there and what you don't," says Tim Ellert, one of four partners behind Wireless Automation Solutions in Oxford, England. When the company entered its low-cost system for monitoring and controlling home power usage in GE's challenge, Ellert edited his business plan to remove details he won't share without a nondisclosure agreement. Still, he believes his company has benefited from the critiques he has received on the website, and he says that even "if we don't get to the next round, already it's been worth the effort."
Running such contests also scares some executives in corporations more accustomed to keeping their research efforts secret. They fear that working with outsiders could give rivals a sense of what's happening inside their corporate labs, says Marthin De Beer, who oversees Cisco's competition. "A lot of people's hair stands on end inside of these big companies because they immediately think of intellectual property leakage," De Beer says. "It's a different way of thinking about innovation: closed, locked down behind corporate walls, vs. 'Let's open it up to anyone with a great idea.'"
The bottom line: Global corporations are finding new ways to scout out business ideas, creating opportunities for entrepreneurs.
Before it's here, it's on the Bloomberg Terminal.
LEARN MORE