Organized Chaos
Meg Whitman believes her experience as a CEO can help her save California. Does she have any idea of what she's getting herself into?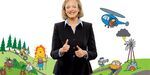 Margaret C. Whitman, the woman who made her career in consumer marketing—focus-grouping Mr. Potato Head proto- types for Hasbro (HAS), retooling toothpaste for Procter & Gamble (PG), and, of course, scaling eBay (EBAY) into a multibillion-dollar e-commerce monster—is now brand-building her newest product: Candidate Meg.
Here is the product: tall, handsome woman, parade float stately, emerging from a tinted-window black Escalade in waist-length jacket, trousers, and pointy loafers, campaign workers and political consultants in a phalanx around her. In the hot California afternoon sun, her freckled skin appears pale and powder-dry. A few passersby stop and stare. "Is that...wait a second...who IS that?" She's familiar, her TV spots inescapable, her serene, almost smug expression and from-nowhere accent (Long Island? Boston? Los Angeles? Silicon Valley? Where exactly is she from?) on those TV commercials an almost soothing soundtrack to California's exasperating crises: "If I could do one thing as governor of California, it would be to fix the business climate...." The warm monotonous voice of fiscal reason, urging calm, urging change, urging a vote for Candidate Meg.
Candidate Meg now crosses the sidewalk, on her way to her second event of the day, her 12th event of the week, her thousandth of a campaign that began in February 2009, now pitching the product to the Greater San Jose Hispanic Chamber of Commerce. She never quite gets used to this, she has said, the peculiar hustle of taking you, your being, and saying, buy this. Buy me. Buy Meg. Because I am the solution to all your problems, to all of California's vast agglomeration of problems.
"I'm still learning a great deal," Whitman, 53, told me later, as if revealing a secret. "I'm working hard at getting better, every day, every single week."
If the governorship were awarded on the basis of a complicated multiple-choice exam instead of a statewide election, then Candidate Meg would be a shoo-in. (And one gets the sense that she would prefer that method of choosing a governor instead of an endless retail slog up and down a huge state.) When she made the decision to run, Whitman says it was because she wanted to govern; what she knew, but hadn't quite reckoned with, was the inside-out, emotionally draining experience of marketing yourself to tens of millions. She is spending a chunk of her personal wealth—$59 million so far of a personal fortune estimated at more than $1 billion—mostly on ubiquitous TV and radio advertising. But you can't pay somebody else to do all that old-fashioned, pound-the-pavement politicking for you.
The new Whitman is just getting off the ground, and there's no telling how high she can go. There is California, and then there is the national stage, where a natural opportunity awaits. From her pro-choice position to her elitist educational background and blue-chip training, she could be the crossover alternative to the Republican Party's other female star, Sarah Palin. While she lacks Palin's uncanny ability to connect with certain elements of the Republican base—it's hard to picture Whitman shooting moose from a helicopter—she is a far more reassuring figure to many of the GOP's top fund-raisers.
Lavishly paid business leaders tend not to be the most popular people these days. But so precarious is the condition of public finance that ex-CEO office-seekers like Whitman see an opportunity for themselves. Now more than ever, their thinking goes, government needs private-sector discipline and proven corporate cost-cutters. Whitman is the best known of a wave of candidates with corner-office experience: Former Gateway President and Chief Operating Officer Rick Snyder is running for governor in Michigan, wrestling executive Linda McMahon is leading in Connecticut's U.S.
Senate Republican primary, and ex-Hewlett-Packard (HPQ) chief Carly Fiorina is in a tight Republican primary contest with former Representative Tom Campbell in the California senate race. Even Steve Poizner, Whitman's challenger in the June primary—currently 49 points back in Whitman's wake according to the Field Poll—was the CEO of a tech startup sold to Qualcomm (QCOM) in 2000 for $1 billion.
For her part, Whitman has been stumping loudly and frequently about how she can unleash tech industry innovation on California's fiscal crises—"Silicon Valley is 130 miles from Sacramento," she often says in her stump speech. "But it might as well be a million miles away by how Sacramento operates."
Surveying the mess in California, you might naturally ask why anyone, especially someone accustomed to holding a position of authority, would want to be governor. No state was whacked harder by the successive collapses of technology and real estate. The narcotic prosperity thrown off by those speculative frenzies allowed Sacramento to mask underlying problems by temporarily inflating the tax base and delaying the inevitable budgetary reckoning. The state spent profligately over the last two decades, the budget going from $85 billion in 2000 to $140 billion-plus in 2008, while also cutting taxes. The California civil service added 42,000 jobs in the second half of the last decade, yet property taxes remain capped at 1%, forcing the state into an unhealthy reliance on capital-gains and income taxes.
When those sources of income shriveled in the recession, they left a vast hole in a state where 40% of spending is mandated for public schools because of Proposition 98. Yet the school system ranks 46th in the country for spending per pupil. With a budget deficit projected to surpass $60 billion, California has the worst credit rating in the country. Public schools are laying off teachers, libraries are reducing hours, parks and beaches are closing, welfare and public health programs may be slashed. There is no map for getting back to normal.
Hovering over all the chaos—and beckoning Republican dreamers to dive in and emulate his patented mix of optimism and conservatism—is the still-powerful aura of Ronald Reagan. Across America, every GOP candidate aspires to ownership of Reagan's legacy, but the California statehouse, where Reagan became Reagan, is hallowed ground. Arnold Schwarzenegger, whose name Whitman never utters on the trail, ran as Reagan reborn. She also evokes Reagan on the trail, as a fearless free marketer who showed how to tame bureaucracies and Big Labor and allow the once-great state economy to regain its stride.
The collapse of California's business climate is a particularly mystifying aspect of the state's malaise. How could a place that in the last 15 years incubated Google (GOOG), Facebook, Twitter, and eBay be hemorrhaging tens of thousands of businesses a year and a million jobs since 2000? Whitman raises the issue repeatedly on the stump, citing her difficulties building a new PayPal headquarters in 2006. "Two and half years of trying to get permission, 25 permits, three consulting firms to navigate the labyrinth of regulations. This was for a building that was to house 3,000 white-collar workers. You would think the State of California would have been my best friend on this." Her argument is that regulation strangles even the most devoted Californians, who instead are taking their businesses to Nevada, Utah, Arizona, or in the case of Northrop Grumman (NOC), may be moving to either Virginia or Maryland.
Compared with all the other problems facing the state right now, the treacherous business environment hardly fires up large blocs of voters, and the political forces that produced it are more powerful and well-entrenched than they may appear. A probusiness platform is not only tough to run on, it's also hard to make good on. Schwarzenegger sold himself as a fiscally conservative businessman and subsequently presided over the biggest deficits in California history. The conventional wisdom is that he got played by the legislature, but it may be that he just didn't have enough patience. Being governor of California doesn't come with the sweeping powers that a CEO is used to having over her own company. Whitman's capacity to keep going at a problem, to not get bored and lose resolve, could be what it takes to deal with an ornery and uncooperative legislature.
Almost every day, someone asks Whitman why she is running for governor. She responds, almost reflexively, with an argument for competence. "I really believe I can fix it," she says over and over. Of course, she's also running because she has the time and money and she's young enough not to want to spend the rest of her life jetting to occasional board meetings and taking lots of vacations. Whitman's husband, Dr. Griffith Harsh, a neurosurgeon, recalls the moment he first glimpsed the arc of Whitman's post-eBay career. In 2005 he joined her at an eBay Live! event: Legions of the virtual auction site's buyers and sellers gathered in a convention center, networking, swapping tips, and, of course, meeting Meg, the CEO of the company that had enabled the creation of more small businesses than perhaps any other in history. She stood in the center of the convention floor, in a canary spread-collar shirt and blue pants, smiling, greeting her community—even bending to tickle a baby. "I could see something in her," says Harsh, "in the way she was smiling and loving the attention and shaking hands and posing for photos, that made me think, 'hmmm, maybe politics.' "
The transition has required "a different processing speed," says Whitman. She compares it to a two-year-long, pre-IPO road show, only "you don't get to throw it over to your CFO for 20 minutes."
Her old boss at Bain & Co., former Massachusetts Governor Mitt Romney, describes campaigning as "the opposite of being a great CEO." Before co-chairing John McCain's Presidential run, Whitman in 2007 was the financial co-chairwoman of Romney's primary challenge; it was Romney who urged her to run for governor, helping push Meg past "maybe" in early 2009.
"Winning an election isn't easy for a businessperson," Romney says. "The most difficult part is the communications part of the campaign. In business it's all results, and talk is irrelevant. And somebody who performs, you couldn't care less how they talk. Look at Jack Welch, one of the great performers in American history, but he wouldn't have been able to make the transition Meg is making."
Whitman's own staff admits she isn't a natural, though they quickly add that she has the drive to remake herself into a winning candidate. "She is so competitive," says communications strategist Rob Stutzman. "She wants to govern, and to do that she knows she needs to become a better campaigner to get there. I worked for Arnold Schwarzenegger, who loved campaigning more than the governance. She's not like that. But that's what compels her to get better and better at this."
Government needs to get out of the way of the American businessman. It's a core GOP talking point, but the Schwarzenegger administration has demonstrated that even conservative voters are sensitive to the difference between passive and ineffective government. Schwarzenegger's approval ratings stand at 23%, right where Gray Davis's were when he was recalled, the lowest scores registered by a sitting governor in 50 years. Whitman trusts her own judgment and intelligence; she believes governing will come naturally. She guided eBay, an organization of 15,000 (larger, by the way, than the population of Wasilla, Alaska), from tiny startup to tech titan.
But she never had to think about education, health care, or a rebellious legislature while doing so.
Yet it's Whitman's business background that her backers always point to when explaining why they have such faith in her ability. After graduating from Harvard Business School, she was one of four women out of 100 people hired as brand assistants at P&G in 1979. Two years later she moved to Bain in San Francisco, again one of just a few women in the office. There she developed a reputation as a budget genius, urging clients to centralize purchases, and discovering, for example, that food service concessions at universities could save hours of prep time by washing potatoes in dishwashers. "The thing about these kinds of savings is, you have to look for them," Whitman explains, "These are not splashy, career-making projects that get you promoted."
Whitman did get promoted, though. She moved from Bain to Walt Disney (DIS) in 1989 (DIS) and oversaw the expansion of theme stores overseas before getting her first CEO position at Florists' Transworld Delivery in 1995 (where her tenure was brief and mostly unhappy). When a headhunter called her about eBay she was at Hasbro, reviving the Playskool and Mr. Potato Head franchises.
Her success at eBay starts with the obvious: She expanded the company from 30 employees to 15,000, took it public, and raised revenues from $4.7 million to $7.7 billion. Adam Cohen, in his book about eBay, The Perfect Store, describes her response to a cataclysmic 22-hour site crash in 1999 as an "unlikely Winston Churchill, in the middle of it all, issuing orders and deploying troops as the Blitzkrieg raged around her." Whitman became the de facto chief technology officer during the crisis, and upon its resolution had her new CTO's desk put in the cubicle next to hers. She became one of the most respected figures in the corporate world, and eBay became a global powerhouse, establishing dominant positions in Germany, India, and South Korea.
There were missteps, too. EBay got trounced in the lucrative Japanese market by Yahoo! (YHOO) and squandered an early lead in China. (Whitman traveled frequently to Shanghai for a few months in vain hopes of reversing the slide in the company's market share.) Her signature moves were a mixed bag. The $1.5 billion acquisition of PayPal in 2002 was a massive hit, ranking as one of the smartest big deals of the dot-com era, not least because it was executed after the bust when the company was cheap; her 2005 purchase of Skype, the Internet telephone service, has been widely criticized as an overreach, $3 billion for a company with minuscule revenues. Worse, Skype didn't complement eBay's core business, and will probably be spun off later this year at a loss of as much as $1.7 billion.
Throughout her career Whitman demonstrated a flair for the undramatic, for doing her chores well and showing little vanity. But after building eBay into a global company that was poised to compete head-to-head with Amazon.com (AMZN), she lost her way, says Standard & Poor's (MHP) analyst Scott Kessler, who has covered the company since 2000. "The core business had matured, he says. "Whatever vision she had about where to take the company from there was muddled." Whitman left eBay in 2007 not quite as damaged goods, but with serious questions about how much of her success there was due to being at the right place at the right time.
A certain vision deficit is apparent on the campaign trail. Delivering her prescriptions for California, she speaks in numbered sentence sets—"four problems," "three areas," and "two issues." Her platform is built around "three primary goals," namely creating jobs, cutting spending, and fixing education. Whatever doesn't "fit in those baskets," she vows, will no longer be prioritized. It's PowerPoint politics, willfully dull and unglamorous.
It's also elementary; what part of the governor's job doesn't fit into one of those areas, which could also be classified as economy, education, and state budget?
The most gifted politicians manage to turn scripted "messaging" into stirring stump material, but there is nothing Churchillian in Whitman's delivery. Says former colleague Rajiv Dutta, former eBay CFO and PayPal president, now a managing director at Elevation Partners: "Clearly she doesn't have the practiced ease of appearing to be intimate in front of millions, which career politicians have spent their lives perfecting."
A more experienced campaigner—say, Attorney General and former Governor Jerry Brown, Whitman's likely opponent in the general election on Nov. 2—might be able to exploit this weakness. It's hard to imagine Brown, former Governor Moonbeam, as the more approachable candidate, but that's how the race is shaping up. Brown is unopposed in the Democratic primary and has barely stepped out on the trail—yet the Whitman camp is already attempting to frame him as the politics-as-usual candidate, owned by the special interests that Whitman's personal wealth insulates her from. "I contrast myself to Jerry Brown," she says, "who is 100% beholden to the unions." Early polls have the race as a dead heat.
At Seal Beach's Leisure World, a retirement community south of Long Beach, seniors drive electric buggies plastered with "Nobama" stickers to the Meg Whitman rally. After the singing of God Bless America, America the Beautiful, My Country, 'Tis of Thee, and the national anthem, the candidate appears just in time for the Pledge of Allegiance. This afternoon rumors about what is in the Health Reform Bill are sweeping through the hall. At one point Elizabeth, the octogenarian next to me, says, "They're going to have IRS agents deciding who can go to the doctor."
This isn't Whitman's natural constituency, but she does fine, enduring a few muted boos when her opposition to offshore drilling is raised. Backstage after the rally, it takes a few minutes for Whitman to veer away from the campaign speech and into an actual conversation. She is seated on a wooden chair, eagerly sparring with reporters in her usual attire of blouse, short jacket, slacks, and pointy pumps. Whitman spent most of last year held in check by her staff after a few awkward interviews, notably when she defended her sparse voting record to reporters at the state Republican convention last September—including not casting a vote for the governor recall in 2003—by explaining, "I was focused on raising a family, on my husband's career, and we moved many, many times." She has since tempered her imperiousness—perhaps that's what Romney means by "communication"—and now says she enjoys the back and forth of these exchanges.
"I want the campaign to get better, be ready for the next challenges," Whitman says. "I love the policy part of it. It's been fun to dig in on that." In a debate with Poizner, she announced that she would suspend for a year the state's compliance with Assembly Bill 32 that requires California to reduce emissions by 25% in a decade. She is the first candidate for governor to publish her own detailed policy statement, "Building a New California," in which she lays out more of her ideas, all of which fit broadly into her three primary goals. While she has not gone as far as some of her fellow Republicans in demanding across-the-board tax cuts, Whitman has said she will give targeted tax cuts to businesses and a $10,000 tax credit for home purchases. Her education reform ideas revolve around finding efficiencies that allow more money to reach the classroom. Also, she wants faster-track charter school conversions so parents can "immediately" petition to turn a failing school into a charter school. And in classic Reagan mode, Whitman plans to cut the state bureaucracy by 40,000 employees, though her opponents have pointed out that the governor's office only has authority over half the workforce, including public safety, which she says she will avoid cutting. So getting to 40,000 will be especially tricky, if not impossible.
On a late afternoon this spring, Whitman is at home in Atherton, a picture-perfect Silicon Valley suburb.
Her house is vast but tasteful, a colonial with green shutters, set back from a picket fence amid a garden bristling with old-growth willows, redwoods, and blue spruces. She sits on a white sofa with her legs folded beneath her, wearing a three- button black jacket, jeans, and no shoes. She picks absentmindedly at her toes as she speaks. In this kind of casual setting, the preppy high school athlete and Princeton Univer- sity graduate comes closer to the surface. There's a lightness and charm that she has not yet figured out how to project in a bigger room. The run for governor of California, she admits, is harder than she expected.
"This has been new," she smiles. "Campaigning is really different than being the CEO of a company, where you are leading a team....In campaigning, there is really only one asset—me—so it's one giant linear program for one scarce resource. It's been a challenge, but a fun challenge." After she says "fun," she forces another little smile, one that shows plenty of teeth but doesn't move the pale skin around her blue eyes.
"I'm a big believer in focus." She nods. "And when I focus, I can do a lot of things. I learned that in business. Well, I'm really focused now."
As you watch Whitman travel the state, doing two events a day, you can see the slow, incremental payoff of that focus. She seems to have absorbed the critique of observers like Raphael Sonenshein, a California State University Fullerton political science professor, who says "she projects competence, though seldom likability," and is working hard to be warmer and more engaging.
Of course, if Candidate Meg does become Governor Whitman, that might be when her real problems start. For 30 years the office has devoured its occupants, crushing the personal reputations and good intentions that got them elected. For Whitman, it could all come down to timing. If the California economy somehow comes roaring back, either from her policies or a renewed tech boom feeding off global demand, the state's budget crisis could become a lot more manageable, and that might be all the turnaround she needs to vault into national politics. How much would the Republican Party love to have a certifiable non-Palin star who brings 55 electoral votes along with her? Many will argue that she can't compete nationally with her moderate social views. Many will say an elitist from California can never connect with Iowa farmers or New Hampshire quarrymen.
Tell that to Meg. Tell her it's a problem.
She'll get right to work on it.
Before it's here, it's on the Bloomberg Terminal.
LEARN MORE