Bankers to the Inner City
A conversation with Tim Ferguson and Ron Walker of Next Street Financial
by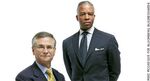 In 2005, longtime bankers Tim Ferguson and Ron Walker created Next Street Financial, a bank offering financing and advice to inner-city companies
Why did you start Next Street?Ferguson: There was a significant gap between what traditional financial services providers do and what small businesses in inner cities need: access to growth capital and high-quality advice.
You serve the domestic "missing middle," as you call it. Ferguson: The marketplace that needs most help is companies with revenues between $5 million and $60 million. There is a lot of focus on startups and on companies with sales under $2 million. But the whole middle area is not getting what they need.
You've said the businesses you're targeting need more than just loans, and that what's truly important is long-term investment. Walker: The real issue is growth capital. If you have a commercial laundry that obtains a $2 million contract with a hospital, they will now have to perform that work, hire more employees, maybe buy more laundry machines. They will go to the bank, and the bank will focus on their past three years of performance, which will not include the new $2 million contract, so they won't be able to get additional capital to secure that contract. That forces the company to make bad decisions, such as using an existing line of credit to purchase machinery. They actually should be using that for operations, and find a loan to buy the new equipment.
What do you tell clients who are evaluating equity vs. debt? Ferguson: One of the misperceptions is that the only solution for growth capital is equity. Most owners don't want to give up ownership in their companies. What people don't realize is there are many other sources of capital. If they're classified in Massachusetts as a "light manufacturing" company (the definition is broad—a catering company would fit), they're eligible for something called industrial revenue bonds which let them finance land, a building, or equipment.
Before it's here, it's on the Bloomberg Terminal.
LEARN MORE