A Talk with the Enterprise Center's Della Clark
The Philadelphia facilitator for inner-city business on how small companies can thrive in recession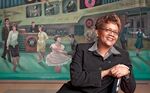 For 17 years, Della Clark has run The Enterprise Center in inner-city Philadelphia. Located in the building that was once home to Dick Clark's American Bandstand, the center is funded with both private and public dollars. Clark, a former entrepreneur who ran a water bottling company, says her goal is to help entrepreneurs connect with new customers and sources of capital. She spoke with Senior Correspondent Amy Barrett about the resources small companies need to thrive and how the recession has affected inner-city businesses. Below are edited excerpts from their conversation:
You call your operation an accelerator, not an incubator. What is the difference?
We started out 20 years ago as a business incubator. But there has been a lot of emphasis in the last 10 years on helping startups. And when we looked at the spectrum of business development, there was no one helping what we call middle-stage companies. So eight years ago, we moved upstream to help middle-stage companies. These are companies that have some sales, employees, and infrastructure. They know their target market, and they have their cost structure worked out. Over 90% of the folks we work with are minority entrepreneurs.
What do you think cities need to do to stimulate entrepreneurship?
The first job is to look at your region and identify the dominant industry clusters. In Philadelphia, for example, the pharmaceutical industry is a dominant cluster. If you want to create minority-owned businesses that can become major employers, they need to be connected to the right clusters. If companies start up with no connection to anything, it takes too long to get going.
The second component is capital. Most minority businesses only have access to debt. If you can get access to equity, you grow faster.
The third element is the strategic advice. You need to open doors and expand networks, so connecting with law firms, CPA firms, and marketing and PR companies is key. We try to help small businesses identify the right opportunities.
How have minority-owned businesses fared in the current recession?
They are struggling. Most of them have used lines of credit and credit cards, and many credit lines were scaled back. The same goes for credit cards. I think our clients will be the last to feel the recovery. If we want to jump-start the economy in the inner city, we need to give [these businesses] access to public and private procurement contracts and capital.
What is your biggest challenge in running The Enterprise Center?
One of the biggest is the high operating cost of providing these services. I have to spend too much of my time trying to fundraise. If I weren't doing that, I would have more time to help our clients. So for example, our businesses can't afford to pay $200 an hour to a lawyer or CPA. If we can convince those firms to give us reduced rates or pro bono hours, that really helps. But it's hard to [work on those deals] when you are working just to keep the doors open.
Before it's here, it's on the Bloomberg Terminal.
LEARN MORE