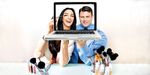 Christopher Tillett, CEO of Kroma Makeup, had a marketing problem: To reach buyers for his high-end, custom-blended cosmetics, he was sending out about 200 sample kits a year. But the kits cost between $100 and $200 each, and Tillett was never quite sure which of the recipients, including spas, aestheticians, and plastic surgeons, were interested. About 10% of the people who got the kits eventually placed an order, but Kroma spent at least $10,000 producing and mailing kits that never resulted in any business. "You are spending money on leads that go nowhere," says Tillett, whose Orlando company has eight employees and about $500,000 in annual sales. "It would take over a month to get a 'No.'"
That all changed in February, when Tillett, whose wife, Lee, founded the company, started using Web conferencing to connect with leads. Now, rather than sending samples blindly, he first engages potential customers online. A desktop video link lets him gauge his prospects' reactions. By the end of a half-hour presentation, Tillett can tell if it makes sense to mail a kit. He now sends out a maximum of four kits a month, and almost every one results in a sale. Because he's sending samples to people who want them, he can charge $20 (applicable against the first order) for each one.
Web conferencing has existed for about a decade, with videoconferencing a popular add-on in the last four years. But with a basic setup now running just $40 to $100 a month per user for unlimited access, and with most vendors (such as Microsoft, Cisco, and IBM) providing browser-based tools, such services are becoming increasingly accessible to entrepreneurs.
At its most basic level, Web conferencing lets you use your desktop and the Internet to share slides, spreadsheets, and other presentation materials with people in remote locations. It can also boost productivity by keeping far-flung staff more closely connected on projects.
But it's all too easy for people to hit the snooze button, at least mentally, while attending a Web conference. Whether it works "depends on the rapport between participants" and their willingness to stay engaged, says David Mario Smith, senior research analyst for social software and collaboration for Gartner in Stamford, Conn. Claire Schooley, an analyst for Forrester Research in Cambridge, Mass., suggests keeping Web meetings shorter than an hour and encouraging lots of interaction through multimedia, sharing applications, and passing control from the leader to other participants. "Every five minutes you should have something that is interactive so people will be really engaged," she says.
Tillett never goes more than a few minutes without asking for input, inquiring as to the challenges his prospects face or their opinions on a particular look. He also uses a polling tool, which lets participants rate components of each slide.
Tillett customizes each Web conference. Surgeons often want to help patients disguise scars, but may also be worried about skin sensitivity. Spa owners may be more interested in makeup that also acts as sunblock. Tillett says he can gauge interest after the first five slides, and if the prospect isn't impressed, he'll end the meeting after 15 minutes.
Web conferencing also has enabled Kroma to bring its makeup artists online, offering individual instruction to customers who buy the makeup in department stores. The lessons last up to 90 minutes and cost $85 to $105. They particularly appeal to clients who have skin conditions or who have had surgery and may not be comfortable getting similar advice in a public setting. The meeting is automatically recorded, stored, and e-mailed to the customer so that it can be used as a reference. For Kroma, it's become a promising new business.
Return to the BWSmallBiz October/November 2009 Table of Contents
Before it's here, it's on the Bloomberg Terminal.
LEARN MORE