Think Rink
Upsilon's seasonal shopping-and-skating venues have turned sleepy blocks of New York into moneymakers
Amy S. Choi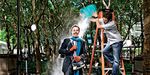 Ice skating. Shopping. Hot chocolate. For fans of Chicago's Skate on State or New York's Rockefeller Center, the lure of urban ice skating under a winter sky is obvious. But transforming that appeal into a profitable venture isn't a walk in the park. Itai Shoffman, an entertainment and marketing veteran, was new to real estate when he started eyeing public spaces in New York. But after meeting with vendors at various holiday markets, he thought some of the city's sleepier blocks could become moneymakers given an injection of fun. In 2002, Shoffman cold-called Bryant Park Restoration Corp., a nonprofit that manages midtown's Bryant Park, and suggested hosting a holiday market there, since it sat empty all winter. "It was just chutzpah," laughs Shoffman, 39. "Once I had them convinced, I suddenly had to come up with the hundred or so retailers to take all the spaces.""
The Holiday Shops at Bryant Park opened for its first season the following winter, backed by $500,000 of Shoffman's own money. Three years later, in an inspired bit of brainstorming, his company added The Pond, the only free skating rink in Manhattan, which drew 123,000 skaters that first winter. Today, Upsilon Ventures, Shoffman's $8.5 million company, has 12 full-time employees, and 150 in the high season. "They are very creative, out-of-the-box thinkers about how people entertain themselves," says Daniel Biederman, president of Bryant Park Restoration. Shoffman has taken on Frank DiPrisco, 39, to manage the holiday shops, and Sar Inbar, 33, to head up business development. The rink has become one of the most popular ice skating facilities in the country, drawing more than 250,000 skaters in 2008.
Even though he's become a developer, Shoffman says the recession hasn't hurt his business. "There seems to be a growing desire by local governments and property managers to figure out a way to extract more value from their real estate," he says. Retailers, hesitant to sign long-term leases, are happy to sign shorter ones. "Having the option of a short-term lease is a huge plus," says Jeff Golden, president of BearHands & Buddies, a Little Ferry (N.J.) children's retailer that first opened a booth at Bryant Park in 2005.
Since its opening, the rink has provided most of Upsilon's revenue. Skate rentals and services make up the bulk of it, followed by rent from retailers and concessions. The company has also sold sponsorships to companies such as Delta Airlines, Citigroup, the New York Rangers, and Lindt Chocolate.
Upsilon is in expansion mode. Last year it unveiled Seaport Ice, an 8,000-square-foot rink at South Street Seaport in Lower Manhattan. Although it's small compared with Bryant Park, each of its 25,000 skaters "was an addition to our normal traffic numbers," says Jannell Vaughan, senior manager at mall developer General Growth Properties, which owns the site.
Cities such as Cleveland and Houston have approached Upsilon to see if Shoffman can make his ideas work outside the Big Apple. "A lot of people managing real estate need help to do this," says Shoffman. Replicating an attraction the size of the one in Bryant Park would require more than $5 million, estimates Inbar. Each additional project requires Upsilon to increase staffing by 30% to 40%. Fortunately, cities unwilling to embrace those numbers can count on Upsilon to do it for them.
Return to the BWSmallBiz October/November 2009 Table of Contents
Before it's here, it's on the Bloomberg Terminal.
LEARN MORE