Carey Schuster's Get-Up-and-Go
As founder of a Web site that specializes in travel for women, she's intimately attuned to girl travelers' needs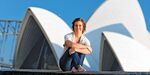 "I started working for a designer right after my husband and I moved to Sydney in 2007. But by July of last year I started doing sketches of the Web site. I came up with this business because I love design and I love to write, and a Web site allows you to communicate with people all over the world. Your business is immediately global. That's an incredible feeling.
"I used TripAdvisor for a long time, and I still like it, but I was frustrated because I was relying on people who didn't have the same expectations or taste that I had. I'd like for Girls' Guide to evolve so that women can start bringing more of their interests to it. There's a ton of potential. There could be a Girls' Guide to the Kitchen, a Girls' Guide to the Garden. a Girls' Guide to the Neighborhood. Who knows?"
Carey Schuster
WHO: Carey Schuster
WHAT: Founder of Girls' Guide to the World, a travel Web site for women
AGE: 28
WHERE: Sydney, Australia
PARTNER UP: The site launched in February and began selling ads this summer. To boost traffic, Schuster is teaming up with travel agents, who offer online planners that link to the Girls' Guide site.
DOWN UNDER: When Schuster's husband was given an opportunity to work in Sydney, the couple jumped at it, moving from D.C. Schuster has a master's degree in interior design and thought she could work in her field in Australia, but mostly, "we just wanted to live abroad," she says. "We had never been here before we got off the plane."
PHO SURE: Says Schuster: "Living here, you realize that Americans don't travel that much. Australians take their gap year to travel and really make it a priority." Since arriving in Sydney, Schuster has visited New Zealand, Fiji, and Melbourne. Her favorite trip included a train ride to a Vietnamese village on the border of China. "It was just so preserved and untouched and special," she says. "Not quite like Hanoi."
Return to the BWSmallBiz October/November 2009 Table of Contents
Before it's here, it's on the Bloomberg Terminal.
LEARN MORE