Buy Bargains for Your Business
Companies' distress means auctions and asset sales. You may as well benefit from them
Monica Mehta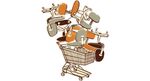 Everyone knows the economy is struggling: Gross domestic product is down, job losses continue, and housing starts are still, for the most part, a nonstarter. But to a business owner with cash on hand, a rotten economy may mean something else entirely: "Hurry!," "These prices can't last!," or "Buy now before we come to our senses!"
Over the past two years, as record numbers of companies have become insolvent, the resale market for corporate assets has become completely glutted. And because many would-be purchasers aren't able to get the credit they need to buy, prices are at historic lows. "It's a buyer's market in every respect," says Richard Kaye, executive vice-president of Northbrook (Ill.)-based Hilco, which sells the assets of troubled companies. Used machinery and equipment are selling for 75% less than they might have just 18 months ago. Vehicles have seen a 30%-to-50% drop in value. Prices for inventory such as furniture, jewelry, and apparel have dropped 40% to 60%.
Whether you're in the market for discounted office furniture or have your eye on the customer lists of a troubled competitor, opportunistic purchases can give your business a competitive advantage, especially when you're buying for pennies on the dollar. But knowing where to look and how to bid is critical.
Nonstrategic assets, such as inventory, equipment, or real estate, are commonly sold via liquidation auctions. These can range from online, eBay-style affairs to the more traditional paddle-and-gavel format. Live auctions are routinely publicized in the Sunday business section of metro newspapers, as well as in trade publications. You'll want to inspect the inventory in advance, since the goods are sold for cash as-is, where-is (it's up to you to get the item to your office or warehouse). There are often pre-registration requirements, which may include a deposit. Expect a buyer's premium of 5% to 15% to be tacked onto the final price.
The sale of strategic assets is more discreet. Sellers hire a so-called asset disposition firm that contacts a short list of buyers to unload leases, patents, brand names, or other intellectual property. If you have your eye on a specialized acquisition, consider reaching out to liquidators even if you don't know of any specific asset for sale. That way you'll be on their list if a good opportunity does arise.
Bankruptcy sales, which are run differently from liquidation auctions, can also be gold mines. Being first on the scene is key—it gives you more time to conduct due diligence and the chance to set deal terms. If you know where the company filed and its bankruptcy filing number, pull the court documents at uscourts.gov. Then file a "request for notice" with the court, which ensures you'll get copies of subsequent filings. Lance Jurich, a partner at Los Angeles' Loeb & Loeb, recommends reaching out to the trustee or debtor's attorney to introduce your company and express your interest in any upcoming asset sales. If the bankruptcy is large or complicated, you might consider hiring a lawyer.
While many assets purchased out of bankruptcy are considered "free and clear" from liability, that language is less sweeping than it sounds, so use caution. In addition, valuations can be particularly challenging, given that due diligence has to happen so quickly. Use comparable transactions as a benchmark, or seek guidance from an appraisal firm such as Hilco or Gordon Brothers. After all, someone is going to profit from the plight of all these distressed companies. It might as well be you.
RESOURCES
Looking for a deal? Here are some good places to start:
Return to the BWSmallBiz October/November 2009 Table of Contents
Before it's here, it's on the Bloomberg Terminal.
LEARN MORE