A Q&A with Stephen Spinelli
Jiffy Lube co-founder Stephen Spinelli talks to BusinessWeek's Amy Barrett about his company's success and the world of entrepreneurial opportunity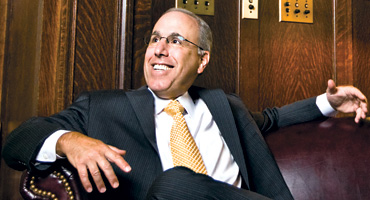 Stephen Spinelli Jr. knows entrepreneurship—both from the trenches and from 30,000 feet. In 1979, when he was just 24, Spinelli co-founded Jiffy Lube International and went on to become the chain's largest franchisee. Along the way he got an MBA from Babson College and, after selling his franchises to Jiffy Lube's new owner in 1991, went on to earn a PhD in economics at the University of London. After more than a decade teaching entrepreneurship, mostly at Babson, Spinelli took over as president of Philadelphia University in 2007. Spinelli, 54, spoke with senior correspondent Amy Barrett about Jiffy Lube's success and entrepreneurial opportunity.
Q: Why did Jiffy Lube take off?
A: Local gas stations were closing, taking [car service] bays off the market. We saw Jiffy Lube as a new technology. Environmental concerns [about oil disposal] and an aging population meant there were fewer do-it-yourselfers.
Q: What was your role in that startup?
A: We bought a mom-and-pop operation called Jiffy Lube in Ogden, Utah. I moved out to Ogden and started changing oil. I tell students all the time: "You gotta learn how to change oil—you have to understand your business." I wrote the operations manual, which was critical in allowing us to replicate the model.
Q: What did you learn from that?
A: It doesn't matter how big your company is, you work your rear end off. It is a false assumption that a smaller business is less risky than a larger one because it is more controllable. You end up having gaps because there's not enough scale and critical mass to have a team. Teams do better than individuals.
Q: Jiffy Lube ran into problems. Why?
A: We were doing so well, we started having this mentality: "This is easy. If we build it, they will come." If you start thinking that way, jump in a pool, cool off. That is a huge mistake.
In our case we got outlets where the operator was not trained as well. Or the location wasn't as good. It's death by a thousand cuts. It grew too fast. A vast majority of the stores were doing well, but the bad apples were spoiling the whole bunch.
Q: You ended up becoming a large Jiffy Lube franchisee. What are your thoughts on franchising in this environment?
A: I believe in franchising. It is a fabulous way to scale a business model. But the devil is in the details. Listen to your franchisees and make them your partners. That gives you an incredible competitive advantage. This is a perfect time to do the homework to be prepared to really grow. I'd be thinking about planning for growth next spring and summer if I were a franchisor.
Q: How valuable is formal education for an entrepreneur?
A: I don't think you necessarily need to be in college to do this. But you need to be a lifelong learner to survive. I think you will have to evolve your business model five times—and maybe five times in the first 15 years.
Q: Are you optimistic about entrepreneurship right now?
A: A perfect storm has been brewing, and it has been anti-entrepreneurial: Consumers and banks are going on strike at the same time. That has really slowed new venture creation. You have to use this time to have a good conversation with your customers, to understand what they are thinking. We will come out of this [recession]. There will be fewer competitors and there will be demand. So get ready.
Return to the BWSmallBiz October/November 2009 Table of Contents
Before it's here, it's on the Bloomberg Terminal.
LEARN MORE