Siemens CEO Löscher Looks to the Future
Maria Bartiromo talks to the Siemens CEO about the lawsuit and the company's plans for the future
By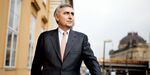 In late September, Siemens issued an ultimatum to former board members, including ex-CEOs Klaus Kleinfeld and Heinrich von Pierer: Reimburse the company for some of the money it has expended to settle a massive corporate bribery scandal or face legal action. According to the Financial Times, Siemens wants Kleinfeld, now chief executive of Alcoa (AA), to pay more than $2.9 million; it is seeking about three times that from von Pierer. Siemens claims that its former chieftains failed to stop widespread bribery, first revealed in 2006. The scandal has become a long-running embarrassment for a company The Guardian called "a symbol of German engineering excellence and corporate probity." In 2007, current Siemens CEO Peter Löscher, a former top executive at Merck, was brought in to clean up the mess, which has cost the company billions in fines and legal fees. I talked with him about what is perhaps the final chapter of the saga and about how he sees the global recovery shaping up from his vantage point atop a major multinational.
MARIA BARTIROMO
Siemens has threatened legal action against former executives if they don't reimburse the company for some costs related to the bribery scandal. What exactly are you looking to accomplish?
PETER LÖSCHER
This case is currently being [negotiated] between the supervisory board of Siemens and the former executive board members. Clearly the company has indicated that it wants to settle under certain conditions. Now it's up to the two parties to find out if they're willing to settle.
Have you gotten any indications from the former executives, Kleinfeld and von Pierer, if they are going to settle?I don't want to go into details because this is really a supervisory board matter. The company, from a management perspective, has moved beyond these issues.
Do you think they could face legal action?The supervisory board, at its last meeting, set a time limit of mid-November [to reach an agreement]. The company is prepared to take legal action in this unfortunate situation, if necessary. My understanding is that everybody's now focused on how to settle the case.
Yours is a business that provides an overview of the global economy. How would you characterize the economy right now?The global economy has certainly bottomed, and we have some encouraging signs. We see a distinct growth pattern around the world; very solid growth in China, India, Brazil, and in parts of the Middle East.
What are strongest areas, and is China's recovery for real?China was extremely effective in how it implemented its stimulus program. We see very solid growth in infrastructure development—energy, energy transmission, and the whole rail modernization program. We also see growth in the Middle East, in countries like Abu Dhabi and Qatar.
How does Europe look to you?There are difficult market environments in the UK and Spain. Very difficult environment in the eastern bloc of Europe, still impacted by limited credit facilities. I think we are seeing the first positive signs coming out of Germany.
Will the victory by German Chancellor Angela Merkel's center-right alliance have a significant impact on the recovery in Germany and, by extension, Europe?I believe the new government will quickly focus on overcoming the economic crisis and then on how to approach the climate change agenda together with its core international partners.
Let me ask you about protectionism. Have you seen a resurgence of nationalistic behavior within the EU as a result of the recession?We don't see a resurgence of protectionist measures. But we have to be very vigilant. At the end of the day, [protectionism] affects all companies in really negative ways. Protectionism and trade wars provoke countermeasures, which endanger exports and therefore jobs.
Do you think that inventories have been depleted enough to where companies will be forced to start reordering?Yes. In some areas of our industrial businesses we actually see a restocking happening.
And as far as commodities prices, what do you expect? We see oil, gold, copper, all sorts of commodities on the rise. Does this concern you?No, not at all. I think it's probably a sign also that the worst is behind us.
Have you used the recession to refine your strategy?Yes, we have reshaped Siemens in record time. And very much from a strategic perspective. We are focused on our core growth markets. Of course the U.S. is very important to us, so we will continue to invest there, where in the last six years alone we have invested more than $26 billion. We have more than 70,000 people and 800 locations in 50 states. We continue to invest alongside the Obama stimulus package. There's a huge, huge shift toward positioning Siemens as the green infrastructure company. We have the broadest and deepest green portfolio of any company in the world.
Before it's here, it's on the Bloomberg Terminal.
LEARN MORE