The Electric Car Market: Not Fully Charged
Large and niche automakers alike are declaring the electric car the vehicle of the future. But it's unlikely that many drivers will be plugging them in soon
Moira Herbst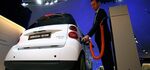 At the Frankfurt Auto Show this month, electric cars are the new black. Everyone from BMW (BMWG.DE) to an Atlanta startup called Wheego Electric Cars is trotting out an electric model or two, boasting of their ample features and unique promise.
But beyond the hip music and snazzy displays, electric cars face some sobering realities that make them vehicles of the future rather than of the present. The biggest issues are price and usability. Costly batteries put these cars out of reach for most consumers, and infrastructure isn't currently in place to allow owners to plug in and charge up cars when they're away from home. Add to that speed and range limitations with electric technology, and it's clear the electric future won't come overnight.
That doesn't mean there isn't cause for excitement about electric cars, which offer the possibility of zero-emissions driving for a potentially large number of city dwellers. It does mean, though, that consumers will have to be patient.
"There are a lot of questions to be solved, and of course it will take a few years," says Stefan Bratzel, head of the Center of Automotive Research Institute in Bergisch-Gladbach, Germany. "Nevertheless, it's a major trend in the auto industry, and one can speak about a technology paradigm change."
Renault Gambles Big on Plug-ins
Some companies are fully embracing such a shift, but analysts caution it's a risky strategy. At the Frankfurt show, Renault (RENA.PA) introduced four electric vehicles it intends to bring to full production by 2012. The company is hoping to become the world leader in sales of electric vehicles, as Chairman Carlos Ghosn announced at the Frankfurt show on Sept. 15. Renault boldly forecasts that electric cars will make up 10% of the world market by 2020, but that's way beyond other estimates: Researcher IHS Global Insight (IHS), for instance, currently predicts that electric vehicles will account for just 0.6% of total industry volume in 2020, with an additional 0.7% coming from plug-in hybrid vehicles.
"Renault is taking a big gamble with its electric vehicle strategy," says IHS Global Insight auto analyst Tim Urquhart. Renault's bet, he says, will either succeed and "accelerate the wide-scale commercialization of electric passenger cars or [it] may leave Renault struggling to market and commercialize technology for which the customer has limited enthusiasm."
Other companies are making substantial investments while remaining opaque on strategy amid an uncertain market. BMW is investing $1 billion in a scheme called Project i that will create a line of small cars for urban drivers including an electric-powered version. But CEO Norbert Reithofer wouldn't say when BMW will take its first mass-produced electric car to market. "This product will come; it's a serious product," he assured BusinessWeek on Sept. 15 at the Frankfurt show.
Other manufacturers are similarly hedging their bets. Volkswagen (VOWG.DE) plans to put its new E-Up! electric compact into production in 2013 but has not disclosed how much it will cost or when it might be available in the U.S. Rupert Stadler, CEO of Audi (NSUG.DE)—part of the Volkswagen Group—told BusinessWeek on Sept.16 that an electric-powered version of its R8 super sports car will be available for test drives by reviewers next year. Audi hopes to begin delivering to a small number of customers by the end of 2012. Stadler acknowledges that it will take 10 or 20 years before there are significant numbers of electric cars on the road. "This will take a lot of money and a lot of effort and a lot of brainpower," Stadler said. "It will take us a long time."
Daimler (DAI) CEO Dieter Zetsche agrees that the switch to electric cars will take time. He told reporters on Sept. 15 at the Frankfurt show that "we are at that tipping point" when major electrification of auto drive trains is starting, but cautions that it will be a "gradual changeover." Daimler is expected to put its first electricity-generating fuel-cell car, the B-Class F-Cell, on the road by the end of this year but won't begin mass-producing fuel-cell cars until 2015.
New EC Emissions Laws
Despite the hurdles, one impetus for the development of electric cars will be stricter emissions laws. The European Commission, for example, will introduce its so-called Euro 6 regulations in 2014, which include penalties for automakers based on estimated fuel consumption. Still, experts predict the move to electric cars will be gradual. Hybrids are the first step, with the ultimate goal being vehicles that run completely on batteries or hydrogen fuel cells.
"Over time, hybrid smaller engines will become more important, and gas and diesel will seem old-fashioned," says Ferdinand Dudenhöffer, director of the Center for Automotive Research at the University of Duisburg-Essen in Germany. "That will provide the way for the electronic [market] to expand."
Gerard Killmann, director of power train development for Toyota Motor Europe (TM), sees the plug-in hybrid as the bridge between combustion engines and electric cars. With these models, which aren't yet widely available to consumers, drivers can make short trips purely on electric power but can switch to a gas-electric hybrid drive for longer trips. "Electrification of the power train has to happen," he says.
Another boost to prospects for electric cars came with an announcement in Frankfurt by entrepreneur Shai Agassi, founder of the ambitious electric car startup Better Place. Working with tech stalwarts including Intel (INTC) and Microsoft (MSFT), Agassi's firm has devised sophisticated new communication technology that will link together vehicles, charging stations, and the power grid—an essential element in building an infrastructure to support the practical use of electric cars.
While electric cars and hybrids won't dominate the auto market anytime soon, there's potential for them to become popular among city and suburb dwellers. Toyota's executive vice-president for R&D, Takeshi Uchiyamada, predicts that at least in the near term, an electric car will be an additions to a consumer's fleet rather than a substitution. "The commuter car could be the starting point—not the first car but the second or third car," he says.
For a look at some of the new autos and concept cars introduced this year in Frankfurt, see our slide show.
Before it's here, it's on the Bloomberg Terminal.
LEARN MORE