Specter Backs Union-Organizing Bill
The Pennsylvania senator declares a compromise deal, but the Employee Free Choice Act may still be tough to pass
Moira Herbst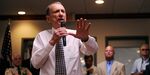 The Employee Free Choice Act—the embattled bill that would make it easier for unions to organize—may have gotten new life on Sept. 15 when Senator Arlen Specter (D-Pa.) announced that he had reached a compromise with labor representatives on a bill that could pass later this year.
"We have pounded out an employees'-choice bill which will meet labor's objectives," said Specter in a speech to hundreds of delegates at the AFL-CIO convention in Pittsburgh. "That is, prompt certification, and binding [contract] arbitration, and…the kind of support that you need and are entitled to."
The act in its original form was also known as the "card check" bill, because it would certify a union once half or more of workers signed cards indicating their support, eliminating the need for a secret-ballot election. A compromise bill, however, would likely drop card check. Specter said the compromise would speed up the process for holding secret-ballot certification elections and call for binding arbitration by a government mediator when workers and management cannot agree on a first contract. It would also allow union organizers some access to the workplace before elections.
Following Specter's speech at the Pittsburgh convention, President Barack Obama reiterated his support for the legislation. But Obama fell short of discussing a compromise bill or a timeline for passage. "I stand behind the Employee Free Choice Act because if a majority of workers want a union, they should get a union," he said.
Specter's pronouncement is a disappointment to business groups that have engaged in a forceful fight against a bill. The issue had faded into the background in recent months as debate in Washington turned to health care, and as divisions among labor leadership detracted from unions' advocacy efforts.
Still, even a compromise version of EFCA faces significant hurdles—chief among them the need for 60 Senate votes to prevent a Republican filibuster. The bill's supporters lost one critical vote with the death of Ted Kennedy in August, though a replacement should be in place by early next year. Even with Specter's support, "it could be tough given Kennedy's death," says Jonathan Tasini, executive director of the Labor Research Assn., a New York-based labor think tank. "Who will be the champion to get the 60 votes?"
Business Remains Opposed
Business groups—which oppose EFCA in its original form and promise to block any compromise—say they are not surprised at Senator Specter's statements. "Senator Specter's announcement today is a logical outcome to his saying he would switch parties [in April, from Republican to Democrat]," says U.S. Chamber of Commerce attorney Steven Law. "We expected that inevitably he would find a way to please unions on this issue."
Law says it remains to be seen whether unions could garner the necessary votes to pass the bill. "The Senate calendar is full," he says. "But we're prepared either way."
Experts say that as union leaders saw support waning for the original bill with the card-check provisions, they've become more willing to strip them out. "Some hard-liners insist on keeping card check no matter what," says Gary Chaison, a professor of industrial relations at Clark University in Worcester, Mass. "But over the past six months, a lot have broken ranks and suggested alternatives to resuscitate the bill."
Earlier this month, incoming AFL-CIO President Richard Trumka said he is open to supporting a bill that would call for speedier union elections instead of the card-check procedure.
Specter's new position on EFCA marks a reverse of his stance earlier this year, when he stated on the Senate floor that he would not vote for the bill. But since April, when Specter switched from the Republican to the Democratic Party, he has been facing a tough primary challenge from U.S. Rep. Joe Sestak. Some observers say that is the main reason he is advocating EFCA. "Specter knows he will not survive a primary if labor backs his opponent," says Tasini. "His statement is clearly an attempt to at least push labor to be neutral."
Before it's here, it's on the Bloomberg Terminal.
LEARN MORE