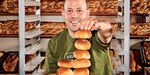 I got kicked out during my last year at The School of Visual Arts, in 1991. I went to Italy for nine months. At that point I got into baking. I stayed in Tuscany, in a 1,000-year-old house with a wood-fired oven. I came back to New York for a year, working 37 different jobs, until I persuaded [restaurateur] Joe Allen, who was considering opening a bakery at the time, to finance a trip back to Italy for me. I went around with a backpack and followed my tongue, my nose, my eyes to what I thought were the best bakeries. A baker in Rome recommended I go to a town called Genazzanno [where] they had all wood-fired ovens and the breads are baked extremely dark, almost to the point of being burned. When I tasted that bread for the first time, I was blown away. We tried to keep the bread simple at Sullivan Street, in the vein of a classic Italian bakery. I built a following one loaf at a time.
JIM LAHEY
WHO
Owner and founder of Sullivan Street Bakery and his pizza restaurant, Co.
AGE
43
WHERE
New York
EMPLOYEES
105
REVENUES
$7 million
STARVING ARTIST
Living in a Brooklyn loft, Lahey ended up doing dozens of jobs in 1992—everything from handing out flyers on street corners to working photocopy machines—to get by. "By my 36th job, I realized I was entirely unemployable," he says. Not quite: Job 36 was for Amy Scherber of Amy's Bread. He left there, too, but a friend tipped him that nearby restaurant Orso, owned by Joe Allen, needed a baker. Lahey jumped, and a career was born.
SUNNY SIDE OF THE STREET
Allen bought the Sullivan Street Bakery building in SoHo. Lahey leased the space from him in 1994, with Allen a partner until 2001.
WILD WILD BREAD
Lahey pioneered "no-knead" bread-baking that lets nonbakers make rustic loaves easily without special equipment. He hopes to turn his artisan pizza restaurant, founded in 2007, into a national chain. "Like a yeast cell, one must mutate to be relevant or survive," Lahey says.
Return to the BWSmallBiz August/September 2009 Table of Contents
Before it's here, it's on the Bloomberg Terminal.
LEARN MORE