Apple vs. Google: Tech's Newest Rivalry?
The Valley giants both want to determine how users access the mobile Web. Eric Schmidt's exit from Apple's board may be the shot that starts the race in earnest
By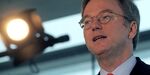 Over the past three decades, a few titanic rivalries have defined the technology industry's megatrends, ultimately determining which products eventually end up in consumers' and companies' hands.