Gold Award: Oxylane's Inflatable, 'Just Right' Jacket
The Wed'ze Virtuous air-insulated ski jacket, an IDEA winner, ensures optimal warmth and comfort while riding the lift or racing down the slope
by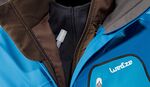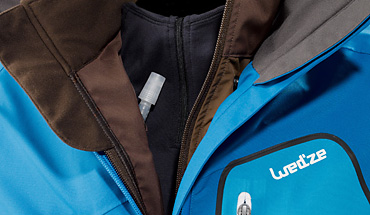 Skiers and other winter sports enthusiasts can empathize with Goldilocks: too hot one moment when they're racing along, too cold the next when they stop. Two brands belonging to French sportswear maker Oxylane Group have come up with a jacket, which earned a gold award in the 2009 International Design Excellence Awards, that's always just right.
The garment, called the Wed'ze Virtuous jacket, is inflatable. Wearers blow into a tube to pump up a vest to make it warmer, like one of those vests that flight attendants demonstrate before takeoff, and release the air through the tube to cool off. Company tests show that by using air as insulation, the jacket can vary the interior temperature by 11°F.
Wed'ze isn't the first to market an adjustable coat. In 2002, W.L. Gore & Associates introduced an air-insulated jacket, the Gore-Tex Airvantage. The Virtuous jacket scored with IDEA judges because at about $350, it's half the price of the Gore-Tex model. It also comes in three weights: vest, wind breaker, and both together, notes Andrew Hartman, judge chairman and design director for new business at Philips Design, a unit of Philips Electronics (PHG), in Eindhoven, Netherlands. "The Wed'ze's inflated vest looks fabulous by itself," he adds.
Oxylane, formerly known as Decathlon, came up with the outerwear by asking two subsidiaries—skiwear brand Wed'ze and components unit Stratermic—to work together in 2007 on a jacket with better thermal regulation. A five-person team quickly discovered a technically suitable and affordable prototype at one of Stratermic's suppliers in Taiwan, says Arnault Duhem, 46, Wed'ze design manager and an avid skier. It was "the perfect solution."
Only One Color: Blue
Led by Oxylane designer Fanny Troesch, the team crafted a comfortable, lightweight jacket with two parts. The inner vest clings to the body when it's inflated to prevent heat from escaping. Designers used a layer of fabric to hide and pad the tubing and added pleats on the back to make the unusual jacket stylish enough that users could wear it without its outer shell.
"The technology was a bit expensive," Duhem says. To reduce costs, the polyester outer jacket, which is waterproof and breathable, comes in only one color, blue, which turns out to be easy to spot on the slopes.
The Virtuous jacket went on sale in Decathlon stores last October and thousands have sold, says Duhem. Oxylane is now trying to figure out other applications for this technology.
"Innovative, simple, and functional—you can adjust the warmth of this jacket to your personal taste so skiing remains enjoyable, whatever the weather conditions," says Rosario Costa, an IDEA judge and creative director for toy company LEGO in Denmark.
Before it's here, it's on the Bloomberg Terminal.
LEARN MORE