business
Caterpillar Rolls Out Its Hybrid D7E Tractor
Despite the economic turmoil, Caterpillar introduces a diesel-electric tractor, which it hopes will help drive the company's recovery
Jessie Scanlon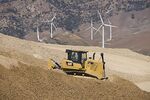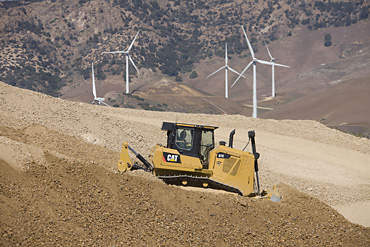 Caterpillar's (CAT) earnings report today was cloudy—second quarter profits dropped 66% as sales cratered—but there was a silver lining: the company reported earnings of 60 cents per share, when analysts, on average, had expected earnings of 22 cents per share, according to Thomson Reuters. And the Peoria (Ill.) heavy equipment maker increased its 2009 profit forecast from $1.25 per share to between $1.15 and $2.25 per share, a tentative projection that reflects the uncertainty of the economic landscape.
After a record-breaking $3.5 billion in profits in 2008, the company has seen sales fall dramatically as a result of the global recession and has cut 17,000 full time employees worldwide. In April, the company reported a loss of $112 million—its first in 17 years—and slashed its 2009 forecast by 35%. So the improved forecast is good news. And last month, despite the grim short-term outlook, the company introduced what it hopes will be a breakthrough product: the D7E, an innovative diesel—electric, midsize tractor—the first hybrid tractor of its class.
The D7E, which will be used mostly in construction and mining, is the result of almost 10 years work. With the blessing of the corporation's leadership, engineers decided to start from scratch in order to come up with a machine that could deliver a quantum leap in productivity. "Usually when we update a tractor we make an evolutionary change, but this time we started with a clean sheet," says Caterpillar engineering manager Mike Betz.
Learning From Mistakes
"Caterpillar has always been an innovator," says Ingalls & Snyder analyst Alexander Blanton, who, like other analysts, recently cut his earnings estimate but rejects the idea that the company is struggling. "It's certainly not losing market share—and in fact will probably gain market share," he says. "In a downturn, the strong companies usually get stronger and the weak companies weaker."
Blanton points to other Caterpillar innovations, such as the Challenger, a farming tractor with a bulldozer-like track rather than wheels, which the company introduced in 1994. The Challenger might have been too radical: Caterpillar couldn't get enough farmers to give up their wheels and eventually sold the machine to AGCO (AGCO) in 2002.
The company seems to have learned from its mistakes. This time, Caterpillar brought customers into the development process earlier than usual, using their feedback to guide the development process. For instance, research showing customers' desire for a versatile machine—both powerful and maneuverable—informed the design of the power train and cab interior.
Testing at Job Sites
And customers remained involved. Once it had the first D7E prototypes in the early 2000s, Caterpillar invited key customers from a range of industries to testing locations in North America and Europe to drive the new tractor and compare it with other models. These sessions continued throughout the development, and the designers and engineers were able to update and improve the design regularly. For instance, they added handles to make getting on and off the machine easier and safer. In 2008, they sent 18 D7Es to customers in North American and Europe to test in the rigorous real-world environment of actual job sites.
Now, despite the economic turmoil, the D7E is ready for its close-up. It goes on sale this October with a price tag of $603,000, almost $100,000 more than the comparable D7R tractor already on the market. And while Betz admits that "hybrids can be a hard sell," he also says he's confident the demand will be there. "The machine is 30% more fuel efficient than a conventionally powered tractor of its size, it's 10% more productive, and it's 10% less expensive to operate." Caterpillar expects buyers to make that $100,000 back in cost savings within two and a half years.
The D7E won't solve any of Caterpillar's current problems. But when the downturn ends, the tractor will be a strong offering and provide a firm foundation for company growth. It is, says analyst Blanton, "a heck of a good product."
Before it's here, it's on the Bloomberg Terminal.
LEARN MORE