An Innovation Hub in Northern England?
Sheffield, a former steel city, repositions itself just as businesses are looking for alternatives to Europe's pricier big cities
Helen Walters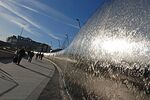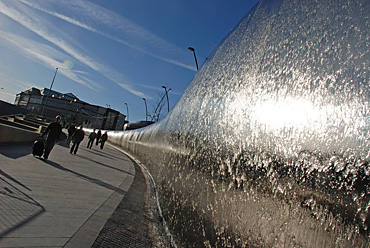 There was a time when British manufacturing didn't seem like an oxymoron. In their industrial heyday, northern English cities such as Manchester and Sheffield thrived. Yet by the 1980s, the situation was markedly different. Assaulted by the political brinkmanship of Prime Minister Margaret Thatcher, then kneecapped by its own radical Labor City Council, Sheffield and much of its famous steel industry sank into a dazed decline from which it seemed unlikely to bounce back.
Visit central Sheffield today, however, and you're greeted by a rather more vibrant scene. The imposing but formerly grim train station has been revamped with liberal use of glass. Outside, a nearly 100-yd.-long stainless steel sculpture in a new courtyard signals a city that's proud of its heritage—but not mired in the past. Up the street, the Winter Garden provides an oasis of green, while the refurbished Crucible Theatre and Millennium Galleries offer a flash of art and culture in this city of 530,000 people.
It's all part of a long-term strategy intended to reposition Sheffield as a European innovation and design hub. And organizations such as Creativesheffield, a development outfit sponsored by the municipal government and the regional development agency, Yorkshire Forward, are working to lure businesses to take advantage of all the city has to offer, including rents and salaries that are 30% to 40% cheaper than in London, 170 miles to the south.
In particular, Creativesheffield is looking to encourage new media and digital industries to set up shop within the city's confines. Companies such as HSBC (HBC), Siemens (SI), and outsourcing company Capita have established reasonably sized operations. Meantime, ElectricWorks, located near the train station, rents office space (furnished with designs from Swiss firm Vitra) specifically to small design companies or freelancers looking for a conference room in a community-center atmosphere. To emphasize the playful side of creativity, tenants can take a slide instead of the stairs from upper floors to the foyer.
Nurturing Creativity
It's not all wacky gimmickry, however: Creativesheffield Innovation Director Gene DePrez describes a forthcoming initiative that will team successful entrepreneurs with new business owners to share experience and advice.
"This is really coming out of the grassroots," says DePrez, an IBM (IBM) veteran who moved to Sheffield from the U.S. last year to head up the innovation team of Creativesheffield, which has a staff of 40 people and a budget of around $6.5 million. He had led Big Blue's global practice in corporate location strategy and economic development, and says he was drawn by the city's unique blend of heritage and innovation—and by its residents' maverick spirit.
"Independence is a strategic theme," DePrez explains. "There's a creative rebellion out there in the music and design worlds, probably in the engineering world, too. Our challenge is to bring all that together and get those people working together."
Another challenge, of course, is to negotiate the pressures of the economic climate, from which the city is by no means immune. Sheffield's "Economic Masterplan" may claim a goal of adding 30,000 jobs by 2020, but first it'll have to do something about the 15,357 people currently out of work in the city. Unemployment rose to 4.1% in February from 3.7% the month before. Progress at Sevenstone, an ambitious project to build a revamped retail quarter in the city center has temporarily stalled and is now unlikely to start before 2011, leaving parts of the area looking drab.
For now, Creativesheffield plans to dress up such areas by offering window spaces of empty stores to small or independent retailers or even for art projects. This summer, it will also hold "Wednesday Night Live" events to draw evening shoppers into the area.
DePrez says that so far the area is managing the downturn well. "In some ways people are even more focused," he says. "Given the upheaval in London and in the financial areas there, businesses are looking at alternatives within the U.K. and in Europe. Our enquiry base is very strong."
Before it's here, it's on the Bloomberg Terminal.
LEARN MORE