When Your Kids' Needs Conflict With Work
By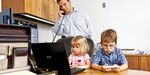 Too often, working weekends, living out of a suitcase, and bringing the BlackBerry to dinner are the price one pays for being an entrepreneur. But try explaining that to a 6-year-old. "The other day my daughter, Luna, asked why I was sending an e-mail," says Shep Sepaniak, managing partner of Fritz-McDonald, a New York employee benefit brokerage with six employees and $20 million in gross revenue. It was early in the morning, and Sepaniak was working in his home office. When Sepaniak tried to explain that the e-mail was to an important client, Luna replied, "Didn't you do that yesterday?"
Good point. But unless your child is wise beyond her years or has the empathy of the Dalai Lama, she will undoubtedly ask—again and again and again—why you have to work (and talk, and travel, and e-mail) so much. It's a question most working parents have to deal with, but it can be particularly nagging for entrepreneurs, who are on the job 24/7. Anthony Migyanka is a divorced dad who is also the managing partner of Mobile Money Minute, an Irving (Tex.) investor relations consulting firm with 10 employees and $5 million in revenue. He has joint custody of his 6-year-old son, Anthony, and 3-year-old daughter, Sophia. Being an entrepreneur allows him some flexibility, so he picks the kids up from school a few days a week and turns off his work phone between 5 p.m. and 8 p.m. But there is still the occasional e-mail that can't wait. "My son calls me the King of E-Mail, because many times while we're at the park or in a restaurant, I'm also typing away furiously on my BlackBerry," says Migyanka. "I tell him, isn't it better that I can be here with you and your sister eating dinner rather than at my office and away from you? He usually agrees."
You shouldn't feel guilty when kids ask about work, says Paul Coleman, a psychologist in Wappingers Falls, N.Y. Chances are they don't want you to stop working—they just need to know they're important. "You need to show empathy for your child when he or she is disappointed that you have to work," Coleman says. Here's how to help them along.
PRESCHOOLERS
Three-year-old Brynn is too young to understand, or even pronounce, Web telephony. That's strictly for Mom, who's the chief executive of HarQen, a 10-person Milwaukee Web telephony startup. But Brynn still picks up her mom's briefcase and cell phone and announces that she's "off to work." Occasionally Brynn will even talk on two phones at once. "I hope I don't do that," says her mom, Kelly Fitzsimmons.
When your child starts pecking away at your keyboard or scheduling board meetings with her dolls, it's probably time to introduce the concept of work. "Don't feel you have to wait until your child is verbal to bring it up," says Sharon Fried Buchalter, a clinical psychologist in Delray Beach, Fla. "Let them know you'd always rather spend time with them, but that most mommies and daddies have to go to work." Most kids just need reassurance that you'll be home and available to spend time with them later, she adds. If the lines between work and family life are blurred, as they often are for entrepreneurs, make a point of blocking out time you can devote solely to your kids. "It's better to spend one hour of quality time with your child than a whole day when you're not really present," says Buchalter.
Of course, kids being kids, they're still apt to cling and cry when you leave the house. Some parents resort to sneaking out of the house or mentioning the trip as they're packing. Bad idea, says Buchalter. That lesson hit home for Fitzsimmons a few months ago when she left for a business trip without giving Brynn and her little sister, Reiley, advance warning. "Brynn lost her mind that Mommy wasn't there," says Fitzsimmons. "I'll never do that again." Fitzsimmons has recently pared back her travel schedule, realizing it was too expensive and just too hard on the girls. "Recently, I did my first videoconference for an investor pitch," she says. "It went terrifically. If you had told me that I could fund-raise via videoconferencing even a couple of months ago, I would have pushed back."Not only that, but "Brynn was tantrum-free last week," she says, "which is saying a lot for our 3-year-old."
When Fitzsimmons does need to travel, she gives the girls lots of advance notice, telling them where she's going and how many "sleeps" she'll be away. "The more details they have, the better," she says. That seems to give the girls a better sense of control, she says, which means fewer tantrums.
GRADE SCHOOLERS
Throughout grade school, the questions will keep coming and the scrutiny will get more intense. But in some respects, talking about work may get a bit easier. By this time, most kids are ready to learn how the world works—that their comfy bed, yummy food, and fun vacations cost money, which doesn't magically come out of an ATM. Most kids can also appreciate that you're making a contribution to society. If you haven't already, explain to them what your company does, introduce them to your employees, show them your workplace, and let them spend time with you on a typical day. "This gives them a sense of security, because they know where you are and can visualize it," says Coleman.
Just make sure you don't get so focused on the literal answer to your kid's questions that you ignore the subtext. What your child may really be asking is not "Why do you work?" but "Why were you too busy to help with a school project?" or "Why was a business trip more important than my soccer game?" Try to remember that when you're tempted to brush them off or say, "Haven't we been through this before?" Instead, ask your children how they feel about you going to work, says Coleman. "That allows the child to reveal an underlying concern."
TWEENS AND TEENS
By middle school your child should be able to understand that you have many reasons for working. It not only pays the bills and contributes something to society; it also (let's hope) gives you personal satisfaction. "As kids get older you can take the focus off why you have to work and talk about why it's something you're passionate about," says Joe Bruzzese, a former middle school teacher in Santa Barbara, Calif. You can also address some of the unique rewards and responsibilities that come with working for yourself rather than for someone else. If it makes sense, offer your child a summer job working for your company. "Your kids will have a whole new appreciation for why you do what you do," says Bruzzese. And who knows? Maybe they will even want to follow in your footsteps.
In other ways, these conversations may become more strained as your kids get older. "Younger kids tend to be more up front about what they need," says Bruzzese. "When kids get into the tween years, they are more reluctant to talk." It's up to you to keep the lines of communication wide open, especially if you're on the road or holed up in the office.
When her daughter, D'vora, was in middle school, Fran Biderman-Gross, CEO of Advantages, a New York marketing agency and print shop with 12 employees and $1.4 million in sales, blocked her schedule from 4:15 to 4:30 so her daughter could call in and "ramble" about her day. "Giving her those 15 minutes after school was key," says Biderman-Gross. These days she uses texting, Facebook, and even Twitter to stay in touch with D'vora, now 16, and son, Avi, 20. And she's scheduling weekly midday "dates" with her youngest, one-year-old Ariella. "My kids feel they've got a little piece of me," says Biderman-Gross. "So if I have to work the weekend, it's not quite so bad." The kids feel better about work, and so does Mom.
Return to the BWSmallBiz June/July 2009 Table of Contents
Before it's here, it's on the Bloomberg Terminal.
LEARN MORE