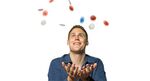 Poker pro Taylor Caby, at the ripe old age of 25, is ready to fold 'em. "I play less and less," says Caby, who's considering retiring from the circuit after winning in excess of seven figures in his five-year career. Instead, he's focused on expanding Chicago-based Cardrunners, the 15-employee, $5 million online poker training business that he started with a friend in 2005. He still plays the occasional game, but "at this point it's a job like anything else." It wasn't always so, of course. As a kid, he couldn't wait until he was old enough—14—to join his family's holiday poker games. "The first year they let me play they bought me a poker book for Christmas," he says, "and I was so excited that I went and read literally every poker book in the library."
COMMEMORATIVE CHIPS
I don't have any cards around, but I keep commemorative chips from games. And small denominations of chips that I just never cash in.
WYNN CASINO
I prefer to play online, because it's faster and I can play five or six games at a time from my living room. But as far as casinos go, it's definitely the Wynn. I just feel really comfortable there.
WOODEN BRACELET
I got this bracelet in Aruba, in the first poker tournament I've ever played in. I didn't win that game, but I did make money.
ARUBA
The beach outside the Radisson resort is phenomenal. I have been there the last five years for a poker tournament, and with the weather in Chicago, going to the beach is really important.
LUGGAGE
We bought our minority partners really nice luggage with the Cardrunners logo on it. I really enjoy packing up for travel now. It's a great-looking piece, and I'm proud of what I've accomplished.
KINDLE
The first book I downloaded was Fooled by Randomness by Nassim Nicholas Taleb. It's about how a lot of people who come to success were just in the right place at the right time. In some ways I think I fall into that category.
Return to the BWSmallBiz June/July 2009 Table of Contents
Before it's here, it's on the Bloomberg Terminal.
LEARN MORE