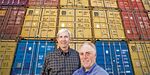 Apple, COSTCO, and FedEx (FDX) all have something in common: Early in their histories, each received aid from the Small Business Investment Co. program.
Now, this somewhat obscure program is suddenly in vogue as banks have all but abandoned mezzanine financing, a later-stage funding for private companies. "There is a scarcity of capital for small businesses out there, so a lot of small businesses are looking to SBICs," says Kristi Craig, a senior investment adviser for the Small Business Administration. SBICs are privately held investment companies—in some cases, small private equity or venture capital funds—licensed by the SBA. Some 345 SBICs nationwide can each draw down as much as $150 million from the agency to invest alongside their own funds. SBICs invest, on average, less than $1 million in each of their companies.
Robert Stewart, general partner of Spring Capital Partners, an SBIC in Baltimore, expects to see 300 business plans this year, nearly one-third more than usual. SBICs such as Orinda (Calif.)-based Pacific Mezzanine have seen additional demand from companies whose banks have reduced their loan exposure and from companies looking to buy back their loans. "This didn't exist two years ago," says Nathan Bell, managing partner at Pacific.
SBIC money can be considerably more expensive than a bank loan. Before the credit crisis, bank financing at the mezzanine level was typically structured as subordinated debt with warrants for eventual equity ownership and carried interest rates of about 7% to 10%, compared with twice that for SBIC money now. "A year ago there were plenty of alternative forms of subordinated debt from senior lenders," says Steve Vivian, principal at SBIC Prism Capital in Chicago. Now, SBICs' interest rates suddenly seem a lot more palatable.
SBICs tend to focus on companies with dependable revenue streams that have made it through the startup phase. SBIC-funded companies are often in less cyclical industries such as manufacturing or business services, or as Howard Anderson, professor of entrepreneurial management at Sloan School at Massachusetts Institute of Technology puts it, "lower-risk but lower-gain companies." These companies rarely if ever go public, and they seldom get bought. So while SBICs may take equity stakes, they don't typically install new management, and they're not looking for quick sales.
That's exactly the sort of funding CRS Reprocessing Services, a Louisville company that recycles by-products of the silicon chip manufacturing process, needed to fund its spin-off from BP (BP). In 2007, its management held talks with six private equity firms, but Argosy Partners, the only SBIC it spoke with, offered the best terms. "We liked their management team and style, and we liked the fact they would give us a bigger share of equity than most," says William Lawrence, president and chief executive of CRS. Management was able to keep about 27% of the company, which now has 62 employees and about $50 million in sales. Argosy won't say how much it invested.
Earlier-stage companies certainly can win SBIC backing, too. Red Smith and Larry Henry were originally seeking millions of dollars in venture capital for their company, Emeryville (Calif.)-based ContainerTrac, to beta test its patented technology that tracks shipping containers as they are offloaded at ports. They talked to 50 VCs, but struck out. "Very few companies that are pre-revenue would get the $2 million to $5 million we were after," says Smith, the company's chief operating officer. And VCs were concerned that the company could not grow quickly enough, due to a limited number of seaports.
In 2005, the Georgia Ports Authority in Savannah, Ga., decided to try ContainerTrac's technology. This piqued the interest of Pacific Mezzanine. "They were very clearly a startup," says Pacific's Bell, but "if they were successful, they would get contracts." His fund fronted ContainerTrac about $800,000. This persuaded a second private equity firm to pitch in an additional $1 million, enough for ContainerTrac to conduct its test. If ContainerTrac is unable to pay back the money, the debt will convert to preferred stock. In the event of a sale, it would convert to common stock.
Now, four years later, ContainerTrac is just about to sign its first contract, worth upward of $5 million. It looks like patient capital may finally pay off—for both the company and its backers.
Before it's here, it's on the Bloomberg Terminal.
LEARN MORE